Besides the obvious, that super cool patina look that terracotta pots get after a while, there are actually some real benefits to using terracotta pots over other materials.  Today I'm going to share my pros and cons for using terracotta pots, which pots are my favorite, and the type of plants I house in them.  So, Let's Talk: Terracotta Pots!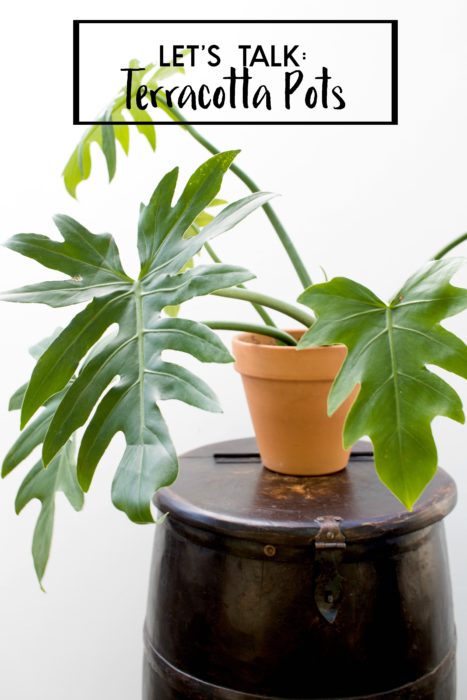 PROS:
Terracotta's porous nature allows for air and water to move through the walls, preventing soil disease and root rot.
Terracotta pots can be used for indoor plants and outdoor container gardening.
Terracotta containers are great for Cacti, Succulents, and other plants that prefer drier soil.
Terracotta is great for colder climates.  The walls of the pots draw the water out of the soil to help the soil dry quicker.
They're inexpensive.
They make a beautiful patina that just gets better with age.
CONS:
Using them outdoors in cold weather can cause them to crack or break.
Plants that prefer to stay moist may need to be watered quite often.
They may not be good for warmer climates as the plants would need to be watered frequently.


---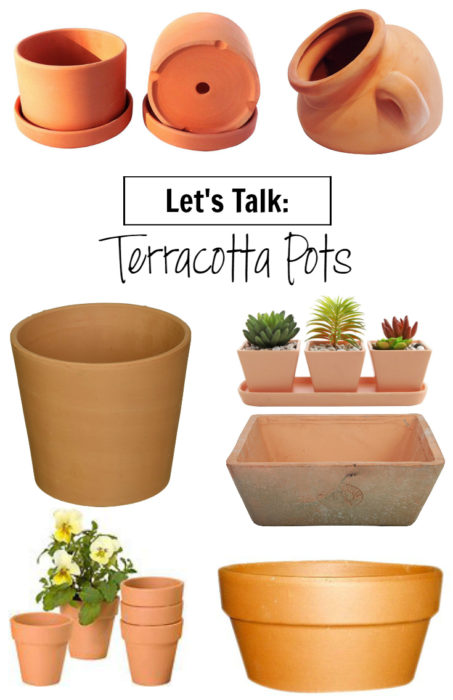 EASY TO ORDER POTS ON AMAZON:
May contain affiliate links.  See my disclosure policy here.
Love the shape of this terracotta pot!

This set of 2 comes with saucers and has a fun fat walled shape.
This aged terracotta square pot is perfect for a succulent or cactus garden!

The shape of this 8″ terracotta pot is shallow and great for planting multiple plants.

The shape of this pot!!  Need I say more?!

This set of 3, 2.5″ pots are great for giving small cuttings to friends or starting seeds.

Loving this terracotta planter set of 3 with shared drainage tray!

---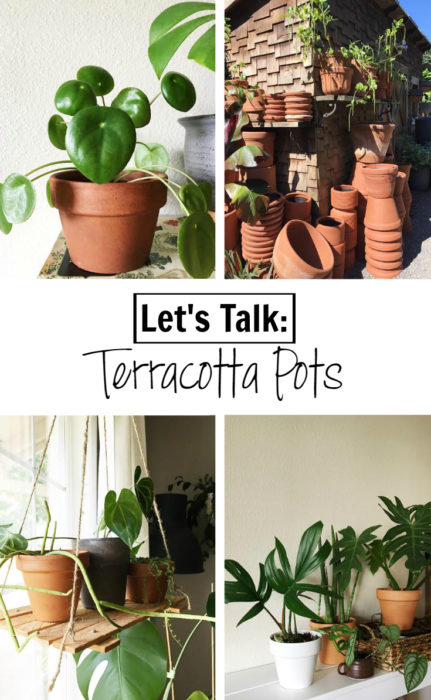 Plants:
This is the list of plants I house in terracotta.  These plants all do very well in terracotta inside my home.
Snake Plants (Sansevieria)
Aloe Vera
Monstera varieties
Syngonium varieties
Peperomia varieties
Pilea peperomioides
Philodendron varieties
Ficus varieties
Opuntia cactus
String of hearts (Ceropegia woodii)
String of pearls (Senecio rowleyanus)
Rhipsalis varieties
Tradescantia varieties
There are many other plants that would do very well in terracotta.  It won't hurt to try.  A great tip is to soak your terracotta pot in lukewarm water for 15-20 minutes before potting your plant inside the pot!
Terracotta isn't the only type of pot I use but it's definitely my favorite!  Living in Oregon, we are mostly damp and cold so having terracotta pots for my plants works in my favor.  If you have any questions, leave a comment or you can find me on Instagram!  Thanks for being here today!