Hey guys!  My name is Erin and I'm a pot addict.  A plant pot addict, that is!  You kind of have to be when you have 75 (give or take) plants in your home.  We all have different styles and there are so many cool pots and planters out there!  Amazon is my favorite place to shop because I don't have to pack the kids in the car, can I get an Amen?!  You can't beat Prime 2 day shipping and you can almost always return with no problems!  I've shared my Amazon wish lists with you before but this time I'm sharing A Pot Addict's Confession: My Amazon Wish List.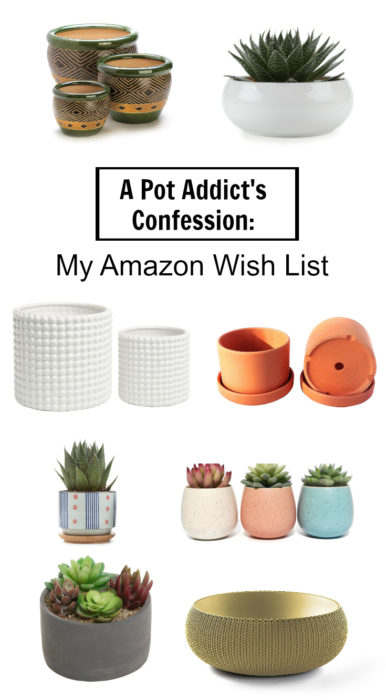 This blog post contains affiliate links for your convenience.  See my disclosure policy if you have any questions.
These pots are totally different styles so I hope you can all find one that's perfect for you.  I'm pretty sure I know which one I'm getting first but leave a comment below and tell me which one is your favorite!
This is a Japanese style pot that looks like it's the perfect size for a succulent or a small cutting.  It has a drainage hole and a bamboo saucer.  It would be perfect for a small teacher gift!

This is a fun set of three pots with geometric design.  The set can be used indoor or out and all three have drainage holes!

This is another set of three small succulent pots.  You have the choice of all three pink, or white/blue/pink with small speckles.  They are really cute and would be perfect for little pileas or succulents.

This set of two white ceramic textured pots is perfect for you white pot lovers.  I know quite a few of you 🙂 They are two different sizes and both have drainage holes.  The texture takes a plain white pot to the next level.  Just thing thing for a modern plant loving home.

This is a simple 6.5 inch white ceramic round planter.  It's not very deep so you could use it for a small succulent garden or do what I do, combine 2 different (but similar needs) plants together!

This is an amazing planter bowl with a removable knit texture cover.  This planter makes the old lady hippie wannabe in me so happy!!

I love this small modern gray cement planter.  I've tried to do cement planters on my own but it's just not my thing!  Haha!  I can never get it smooth enough!!  Leave a comment below if you've had success 🙂

I've talked about these terra cotta pots before.  I love the unusual fat shape!  It's a set of two with drainage and saucers.

I really need to start chipping away at this list.  My plant collection is growing and I'm running out of empty pots.  While you're pot shopping, keep in mind you can always drill drainage holes in pots if you need to.  Gotta have that drainage!
Thanks for being here today!  Follow Clever Bloom on Instagram for daily houseplant  inspiration!  See you next time.