Hey guys!  It's been a while since I've done a blog post (I actually forgot how to log in…sheesh), things have been crazy around here and unfortunately, I've put the blog on the back burner.  But I wanted to share the latest with you…Pretty Plants, Cool Places and Friends!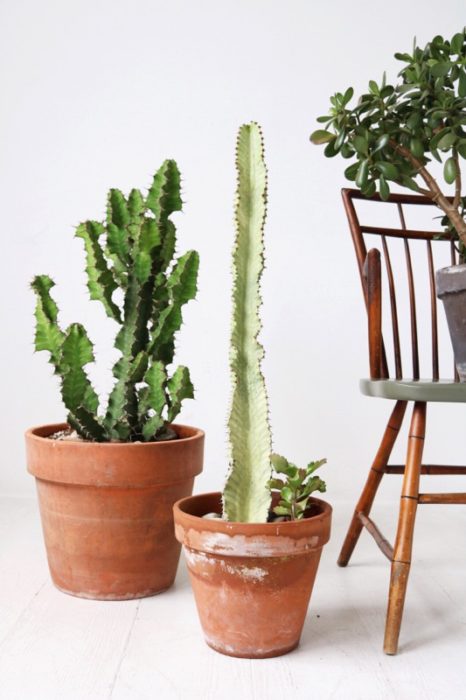 By now you should all know Morgan (@plantingpink) she's my…business partner in @houseplantclub and things are really taking off for us!  We have an Etsy shop (check it out) where we sell House Plant Club merchandise like tote bags, stickers, pins, mugs and more.  We just love coming up with new stuff for the shop so if you have any ideas leave a comment!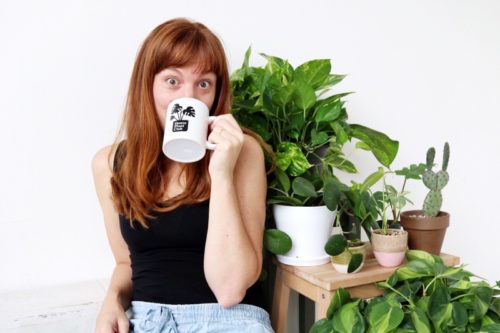 Morgan (@plantingpink) with House Plant Club mug.  Available on Etsy.
We're also working on a secret project (details coming soon) that brought Morgan here last weekend from Tampa.  We had a week FULL of planty goodness and I didn't want it to end…except I needed a nap BADLY!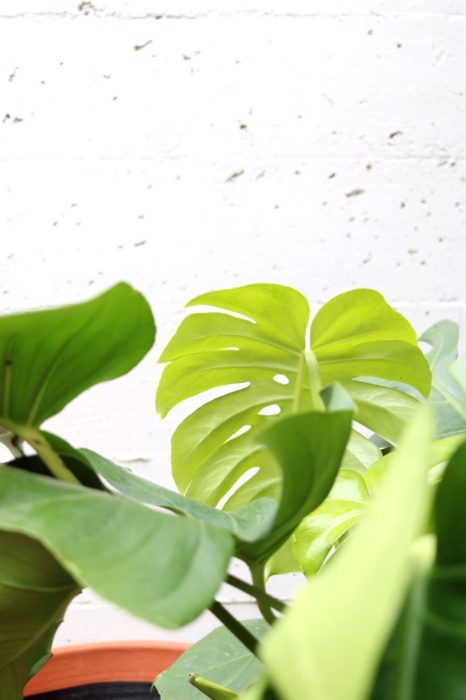 Monstera Deliciosa at Pistils Nursery
I picked Morgan up from the airport and we drove immediately to Pistils Nursery.  If you haven't had the chance to visit them, you don't know what you're missing!  It's like heaven on earth.  The shop is cute as can be and the solarium is AMAZING!  I mean honestly, it's the most beautiful place ever.  From teeny tiny succulents to giant tropicals, they totally have you covered.  They also ship from they're online shop so everyone can have the Pistils experience.  We also attended a mounting workshop there and it did not disappoint!  We both left with our very own mounted plant and Morgan even took hers home safely on the plane.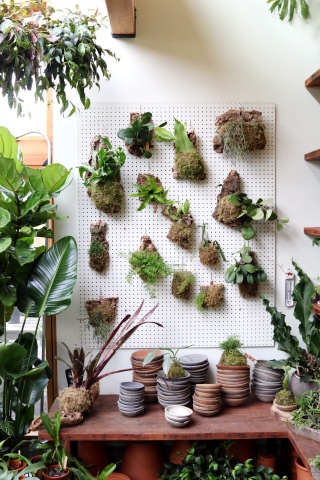 Solarium at Pistils Nursery
Monday was the BIG day.  We had a lot of work to do for the secret project and it turns out we had some amazing helpers.  My husband Tim was such a sport!  He helped us pack and carry everything.  He's an amazing support and just having him there made everything better.  Then there was Cory.  He runs The Potted Elephant.  His greenhouses are full of cacti, succulents and tropicals that he sells to local nurseries and plant shops.  He was doing us a HUGE favor by letting us borrow some of his plants for our special project.  I feel really lucky to have met Cory about a year ago.  He's provided me with tons of plants for different projects and is such a wonderful guy.  He also makes a dang good waffle!!  I love him!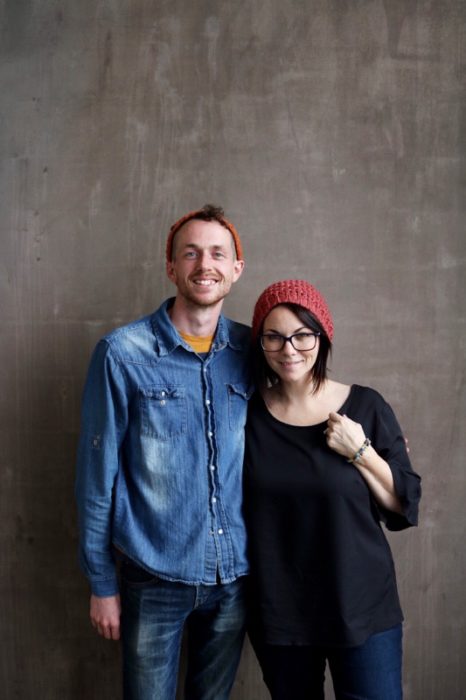 Cory from The Potted Elephant at Beast Daylight Studios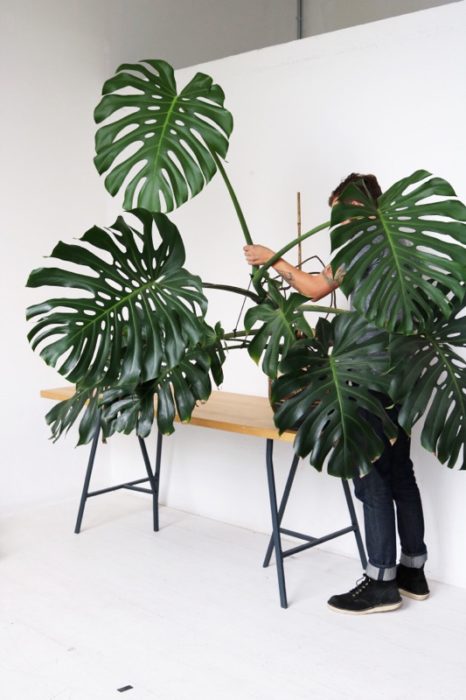 Bryson Mosley at Beast Daylight Studio
Bryson was a last minute helper but he brought the show stopper!  This Monstera deliciosa is gorgeous!  It was perfect for what we were doing and I think it's my new best friend.  Everyone was having their picture taken with it.  Haha!!  It was a celebrity of sorts.  Bryson also let me borrow (I might steal it) this leather plant hanger.  Every bit of it is hand made (by him) and the original design is so cool!  I have him making me more as we speak.  Then he can bring them to me in his adorable little car.  Check him out on IG!
Leather plant hanger by Bryson Mosley
Our morning was spent at Beast Daylight Studio.  It was an amazing studio space that I will definitely use in the future.  If you're a photographer in Portland in need of a studio space, you should totally check them out!  I had such a great time with all my plant buddies.  I wish I could do this sort of thing ALL the time!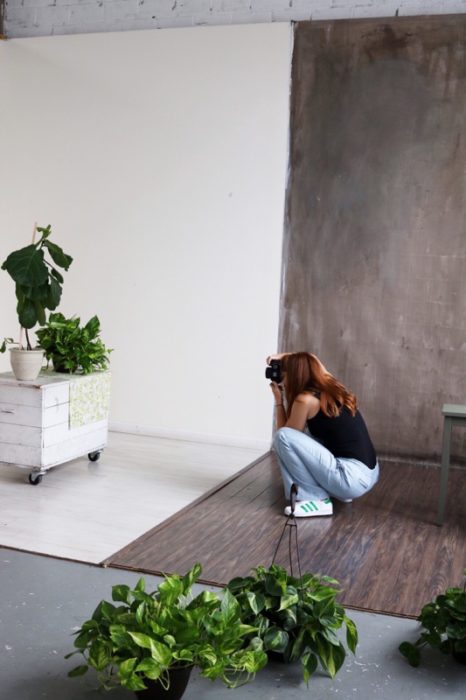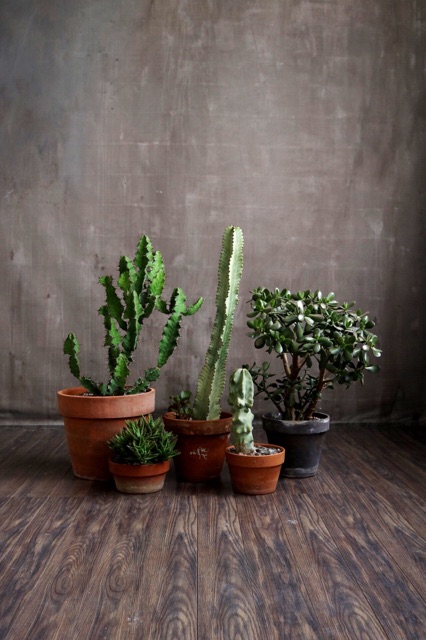 Here are some other things we did this weekend:
Morgan and I spent Sunday morning at Roosevelt's Terrariums.  Gregg, the owner, has a wonderful heart and I adore him.  We built a few terrariums, drank cream soda and talked shop.  Check out their website for class dates and times.
We made a stop at Solabee Flowers.  Morgan bought a small pot and I left with a pink variegated syngonium.  Their store is lovely.  Somehow I forgot my camera in the car but here's a picture of their beautiful shop from a past visit on my IG account.
Morgan took me to Native Foods.  It's her favorite vegan restaurant and we happen to have one here in Bridgeport.  I had a taco salad that was REALLY good and the oatmeal cream pies were out of this world!
Before our Pistils mounting class, we ate at Laughing Planet.  Let's just say, I've been there twice since then.  I love their BBQ chicken quesadilla!
Thanks for reading along!  I've never done a post like this before so I hope you enjoyed it or at least got to see some pretty pictures 🙂  And before I go, I wanted to share a few of my photography tools I used for this photo shoot.
All of these items were purchased through Amazon and I've provided links below! See my disclosure policy here.