Hey guys!  I'm glad you're here today because I'm sharing some really Clever Ways To Hang Your Plants.  I've been into hanging plants recently one, because I have small children and two, because I'm running out of room.  The plant struggle is real!  I follow some really inspiring people on Instagram and below are some of my favorite hanging plant ideas.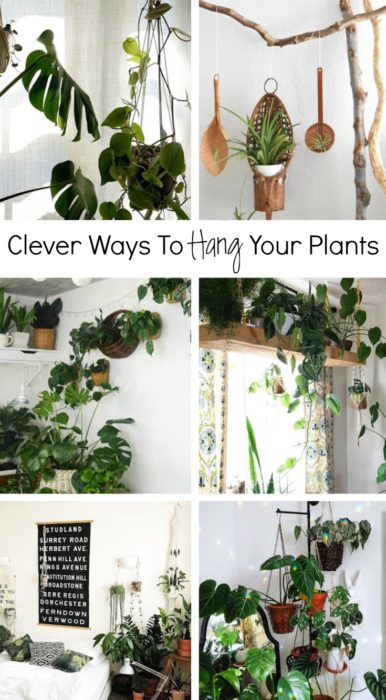 Be sure to read to the end for product links to get some of these looks!
CLEVER WAYS TO HANG YOUR PLANTS
This is Deanna's house.  She shares her vintage style and love for plants on Instagram @habitpattern.sf.  I need to visit her home someday (for obvious reasons) but I'm sharing this picture today because I LOVE this tension rod she uses to display her hanging plants.  It's perfect for someone in an apartment or temporary living situation.
This photo is from @tribeandus.  I have a total crush on them.  Their house is so amazing and their little family is SO CUTE!  In their bedroom, they've used S hooks to hang macrame plant hangers on everything from existing light fixtures to hung wall art.  It's a great way to hang plants without putting too many holes in your walls.  They also just started a blog tribeandus.com with plant DIYs and Inspiration!
Shay shares her craftiness and her plant obsession at @stitchandtape.  I love what she did here by using the plant's own macrame hanger as a trellis of sorts.  It looks like the plant is growing up and right back down!  Shay also uses S hooks on her curtain rod to hang these plants.  Easy peasy!
Scott is the KING of balcony gardens.  I mean look at this place!  It's his own little tropical oasis.  My favorite thing about Scott's balcony is how he uses all different styles of plant hangers to really create the perfect eclectic jungle vibe.  Follow him on Instagram @tropicaloco
Welcome to my home!  This hanging shelf is something I had my husband build for me.  AND I LOVE IT!  It took an afternoon and some time to hang it but that's it!  It's just unfinished wood but the plants will eventually cover it up 🙂  You can see more of my plant inspiration on Instagram @cleverbloom
Ohh Chi…this girl has so much style!  Owner of simplychivintage.com, she has a way of finding vintage pieces and mixing them to create a boho eclectic style.  She incorporates a lot of plants into her home and work.  In this photo, Chi shows us how you can take just about anything and make it into a planter.  With a little bit of string and a sturdy decorative branch, now you have a funky plant display that's so unique!  She has tons more inspiration on Instagram @simplychivintage
Morgan from @plantingpink has done something so simple here but I love it!  She took two macrame plant hangers and hung them on the same hook.  That's it!  It makes for a fun grouped together look that you can always switch out from time to time.
Laney from @pineandbirch makes really amazing, quality wood signs.  In this picture I love how she's hung a leather planter from a coat rack.  It's such a fun way of displaying plants in your entryway.
Jeannie Phan is an illustrator and a plant lover.  She shares her plant love and decor on Instagram @studioplants.  I love how she mixes a bright white modern looking home with plants housed in vintage baskets.  In this photo she hangs vintage baskets on the wall with vining plants like philodendrons.
Sabrina has an awesome Instagram account full of beautiful plants.  This picture in particular made me stop scrolling and go back.  I've always been a fan of exposed beams.  There is something very industrial about them that I love and when I saw that she hung plants from one, I was like, WHAT?!  It just looks so cool.  She used hook lag bolts to hang her macrame plant hangers.
@theoperatingsystem is one of my favorites to follow on Instagram.  Olena has an eye for fancy foliage and really proves that in her photography.  She's in a NY apartment and finds brilliant ways to hang and display her huge plant collection.  Here she's using a coat rack (I believe) to hang her plant hangers.  It's a great idea especially if you live in a place where you can't put holes in the walls or ceiling.
I hope you were able to find some Clever Ways To Hang Your Plants today!  Follow all these plant lovers on Instagram for daily inspiration.  You might also like My Favorite Plant Filled Homes on Instagram.  Below are some links to help you get these looks.  They are affiliate links so check out my disclosure policy if you have any questions.  Have a great day!!
*I have personally only use some of these linked products.  I can not vouch for all of them but try to only suggest items with high ratings.