These days, I think we all pretty much have a "Plant Lady" in our lives.  Whether it's your BFF or the neighbor down the street, this Plant Lady Gift Guide is sure to help you choose the perfect gift.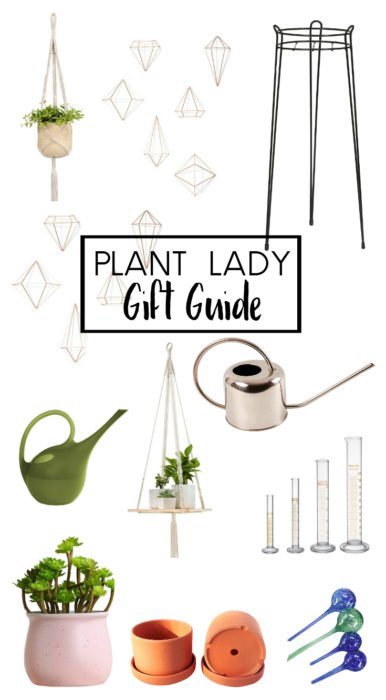 I've gathered my favorite Plant Lady gifts from Amazon for a few reasons.  One, Amazon Prime is AMAZING!  Free 2 day shipping is a procrastinators dream. And two, these item are affordable with good reviews.   I love a good handmade ceramic piece or a botanical print but sometimes you need something fast and affordable, am I right?  But stay tuned for a small business gift guide coming soon!
This post contains affiliate links for your convenience.  Disclosure policy here
1.  Self Watering Globes These are great for vacation plant care!  No need to worry next time you go on a trip!  This set of 4 will work well for a range of plant sizes.

2. Macrame Hanging Shelf  This shelf is a super cute, functional alternative to a macrame plant hanger.  Perfect for displaying a small plant grouping.

3. Macrame Plant Hanger  Simple and beautiful, this plant hanger will go with any style and is a perfect gift under $10.

4. Pink Ceramic Planter I love the shape of this planter and of course, PINK! It comes in a few other colors but there's nothing better than plants in pink.

5. Black Plant Stand I love this stand because it's super basic and will blend in with any decor.  It gives a large statement plant height for better visibility.

6. Decorative Copper Wall Accents  These modern copper shapes are perfect for displaying air plants!

7. Terracotta S/2 Pots I recently received these as gift from my plant bestie, @plantingpink. They are adorable and a must have for your plant loving friends.  They have an unusual fat walled shape that's harder to find.

8. Graduated Measuring Cylinder Set These are my favorite glass tubes for propagating plants.  With 4 different sizes, propagating different sized plant is easy and stylish!

9. Plastic Watering Can I love this retro green color.  It reminds me of the shag carpet days!  Plastic cans are great for indoor or outdoor use and every plant lady needs to water.

10. Modern Stainless Steel Watering Can More than functional, this SS watering can will look perfect next to any plant for that must have Insta photo.

There you have it!  Ten gift ideas that are affordable, functional and stylish. Perfect for any Plant Lady on your list.  I've also included some links to stocking stuffers down below.  A few of my "must haves" for daily plant life.  Thanks for being here today!  Join me on IG for daily plant decor and inspiration!!
I own about half of the items in this list.  The other items are products I'm suggesting due to their affordability, style and good Amazon reviews.