You finally got your hands on a Pilea Peperomioides (yay!) and now you're wondering what every little tiny thing is?  Join me for Pilea Peperomioides: Troubleshooting Q&A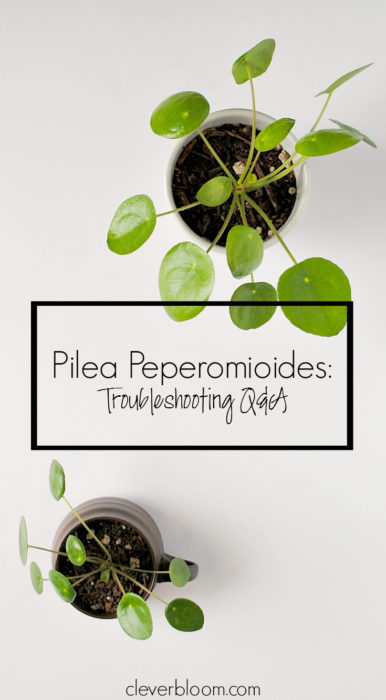 Hi, I'm glad you're here!  I received so many questions from all of you after my last Pilea post (How to care for Pilea Peperomioides) where my dear friend Morgan shared her expertise on the subject.  That post is so Amazing!!  But today I'm going to answer some of your questions and help you troubleshoot some of your problems.  A lot of these questions I wondered myself.  After some research, talking to my plant friends and getting to know my plants I was able to come up with these answers.  Here we go! (I'm just going to call it Pilea from here on so it's less typing for me.  Ha!)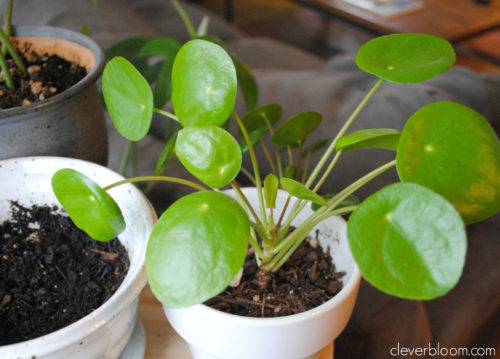 Q&A
Q.  Some of the leaves on my Pilea are starting to curl, why is this happening?

A.  Curling leaves can happen.  It's happened to me.  Your plant is not dying but there are a few things you can do to help this.  In some plants, curled leaves can indicate the plant is drying out but I believe with Pileas it's the opposite.  Make sure you are not over watering.  Let the soil dry out and then give it a thorough water.  In addition, make sure it has enough filtered bright light.  Find a good combo of water/light for your plant.    Curled bottom leaves can mean too much water and curled top leaves can mean too much sun. You can also check for bugs just in case.
Q.  Some of the bottom leaves are yellowing and falling off, what's wrong with it?
A.  Don't worry!  This happens to most plants.  It's probably a combination of things but it seems to be age.  I can have an otherwise healthy plant and the oldest leaves (the bottom ones) will yellow and eventually fall off.  As soon as it happens, new ones will start to grow.  If they start to yellow, they will not recover.  You can either let it fall off on it's own or you can pluck it off.  It's a bummer when it happens but it does seem to be normal.
Q.  What are the white spots under the leaves?  Do I have bugs?
A.  I don't think you have bugs (although you should check just to be sure).  The leaves have stomata (pores) which allow for gas exchange.  Water vapor is released through these pores as well.  I believe these white deposits are a sort of mineral deposit when the water vapor is released.  I started using distilled water and they're mostly gone.
Q.  I'm getting brown spots on the leaves, what could it be?
A.  Brown spots could be a few things.  In my case, I believe I had over fertilized and over watered.  Over fertilizing is basically a chemical burn so don't over do it!  Pilea don't like to be wet so let the soil dry out before doing a thorough water.  This has been "best practice" for my 2 Pileas (from different sources).  Brown spots could also be too much direct sunlight (sun burn).  They do need a good amount of light but it should be bright filtered (although they can tolerate low light levels as well).  You could also have bugs.  Check very closely for creepy crawlies.
Q.  My leaves are drooping, is this normal?
A.  Pilea sort of have that "hang loose" look but if you notice a substantial droop it probably just needs to be watered!  If you water regularly then check to make sure you aren't over watering.  Over watering could cause root rot and drooping leaves could be a characteristic of root rot.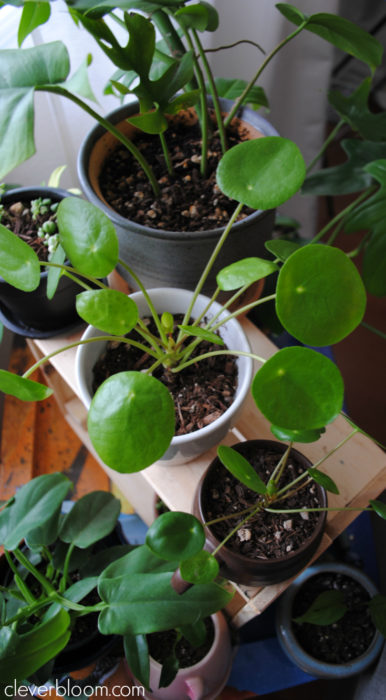 A few other things to keep in mind
All Pilea Peperomioides are different.  I have two from two different sources and they both act very differently.
Get to know your Pilea's needs.  They will differ due to environmental factors.
Don't over water!  This is the number one problem with most first time Pilea parents.  They don't need as much water as we think.
If your Pilea was shipped, it likely had some stress and it will need some adjustment time.  Don't worry, with proper care, it should adjust fine.
Answers to other questions
Unfortunately, I do not have any Pilea for sale.  I have two that have not produced any babies yet.  I will probably not sell any ever (unless I have a large amount).  I have many friends who have been trying to find them and will give them away first.  But you all will be the first to know if I do have any available.
I currently do not know where you can get one.  I always check Etsy and eBay and see them pop up from time to time.  I will always post any available on my IG so follow along!
If you do have Pilea and need directions on how to ship them I have directions here.
This is the fertilizer I use for my plants when I'm doing a large amount of plants at once.  But I use the Miracle Grow Pump Plant Food for individual plants as it has a pump, makes it super easy!  Follow directions on the bottle.  I do once in Spring and once in Summer.
I currently have one Pilea in a glazed 4″ pot and one in a thrifted stoneware mug that I drilled a drainage hole in.  They NEED drainage!
I use this indoor organic potting soil and don't use additives.
I water mine about once per week.
I do give it artificial light in the winter.  This is a kit with a lamp and bulb.  I use this bulb brand but do not have this lamp.
I spritz them a few times per day.  Since they're small I use these small glass spray bottles that make a fine mist.  It helps to raise the humidity.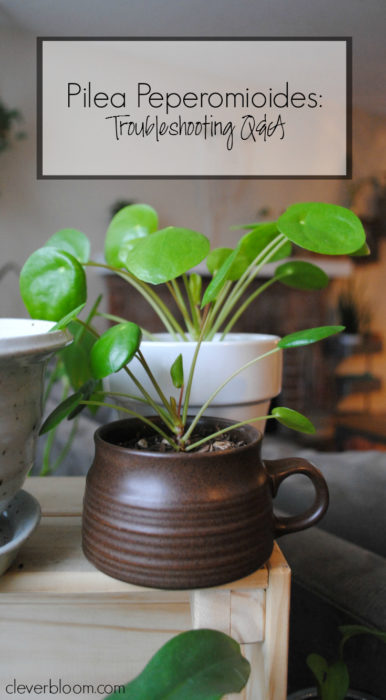 I hope I was able to answer some of your questions today.  If you need help or have any other questions, leave a comment.  I'll be happy to answer what I can or refer you if I can't.  Congratulations on being a proud Pilea Peperomioides owner!  Best of Luck!
Here are some of the products I use: