I'm super jealous of the people on Instagram who post flawless picture of their entire house.  Seriously, are their houses ALWAYS this clean? Maybe they don't have kids?  Maybe they do?  One thing I do know is these are My Favorite Plant Filled Interiors On Instagram!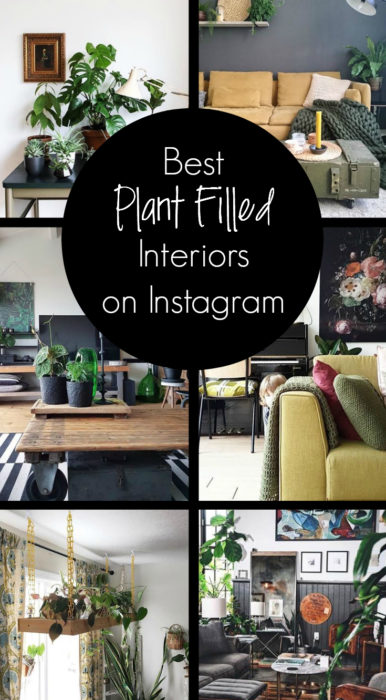 This is Hilton Carter.  I remember the first time we re-posted one of his photos on @houseplantclub – I though we had found gold!  He lives in a dark and moody home in Baltimore with tons of gorgeous plants.  His house is everything!  @hiltoncarter is a must follow!
I have a major thing for green!!!  @fijninhuis does green like a BOSS!  Her home is an eclectic combo of modern and vintage and I'm in LOVE!  Besides her ability to perfectly place chairs and vases, she has a fun collection of plants that anyone would want.  I had a hard time picking one photo to share so please check out her feed.
Next on my list is @dutchlivings.  Her simple style with perfectly placed plants has my heart eyes pounding out of their sockets.  I love her clean vintage style and you will too!
I love @ays.style's color combinations of greens, mustards, teals, and grey. The brick adds an industrial style and the plants soften everything up! I can't forget to mention the coffin coffee table that is now on my wish list!
I have to admit I don't have the guts to go dark in my house but @_finntage does and DID!  Sandra has dark accent walls with black and white decor and I love it!  The natural wood placed throughout adds a fun industrial feel and the plants are the sprinkles on that sundae!
I couldn't let you go without sharing my new obsession at our house.  It's a plant shelf that Tim made and I'm obsessed!  I imagine we'll look back at this picture and laugh that we used to be able to see actual shelf.  At some point I hope all the plants will be overgrown and it'll just be a hanging bush.
I know there are tons of amazing accounts on Instagram and I'm sure there are thousands of good ones I don't even know about yet.  If you have an account I need to follow or know of one, leave me a comment!  I hope these pictures were able to inspire you to add some green to your home.  Have a great day!
GET THE LOOK!