Hi everyone!  I'm so glad you're here.  I hooked up with a few of my favorite Instagramers to talk about houseplant care.  Super dorky right?!  I don't think so.  I get lots of questions from my readers so I thought I would get a few of my favorites to share their Best Houseplant Care Tips.  Awesome huh?!  You're welcome!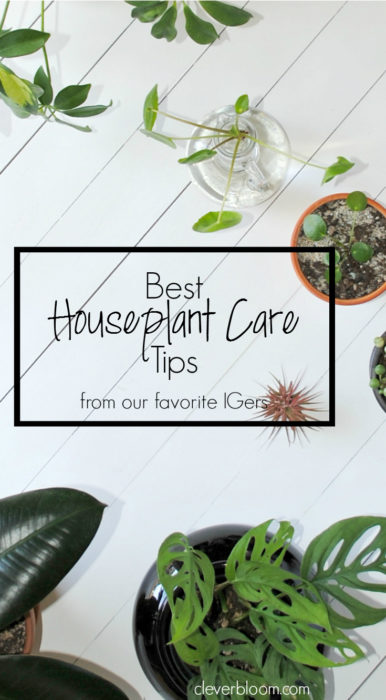 This post may contain affiliate links for your convenience.  See my disclosure policy here.
My first guest is no stranger to Clever Bloom.  Morgan aka @plantingpink shared her expertise on the ever popular Pilea Peperomioides.  Check that post out here!  But today she's giving us her best houseplant care tip.
My best advice for caring for houseplants is to do your research.  As a former librarian, I'm all about the books.  I recommend finding two or three great houseplant books to add to your home library.  You can look through them to see what plants would do well in the space you have available in your home or once you've purchased a plant find out all about how to take care of it.  Choose a title with color photographs and care tips for many types of plants. My go-to favorites are Simon & Schuster's 'Guide to House Plants' and D.G. Hessayon's 'The House Plant Expert' series.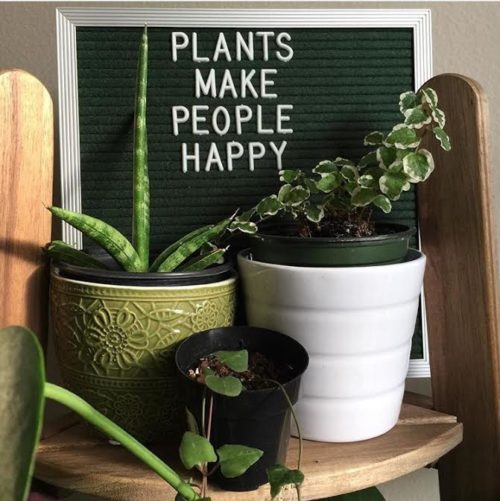 Photograph by Morgan via Instagram
Our next tip comes from Deanna aka
@habitatpattern.sf
.  She has a gorgeous IG feed that I fell in love with immediately.  She shares her indoor jungle with her husband, two daughters and three dogs.  When she's not indoors, you can find her in a half-acre garden nestled in the middle of San Francisco.
I love taking time to observe my plants every morning. It's a relaxing way to start the day and gives me time to familiarize myself with my plants' needs. Every day there are slight changes that take place in the life of a plant. I observe its habits, monitor new growth, and detect when something isn't right. The sooner I'm able to identify diseases, pests, soil issues, or improper light – the sooner I'll be able to aid in keeping my plant happy and healthy.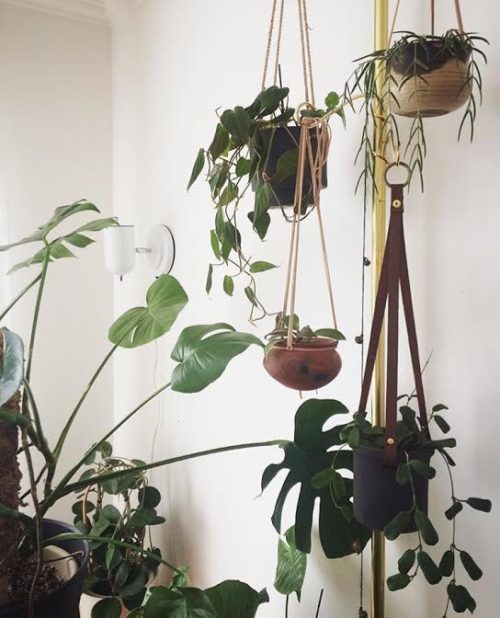 Photograph by Deanna via Instagram
It's so true Deanna, things do happen overnight!  When you know your plants, you can take the best care of them.  Thanks for the tip!
Next up is Ariana.  She is the general manager at Pistils Nursery, a well know local (Portland) plant shop, and has tons of great information.  Her IG feed (@arianatanabe) is a stunning collection of beautiful plants and her gorgeous plant filled home.
Forget the calendars and reminders; developing a green thumb may be easier than you think. Having worked in retail for years now, my favorite advice for new houseplant parents is simply, get to know your plants! Try taking them out to coffee. Kidding… but seriously, spend a little extra time observing and feeling them. Yep, touch them! Learn how a thirsty leaf looks and feels and keep in mind that different plants respond differently to stress. A thirsty Scindapsis pictus leaf curls under while those of Hoya obovata become soft and malleable. The leaves of one of my favorites, Hatiora salicorniodes, shrivel like raisins. Err on the side of dry and at the first sign of thirst, water thoroughly (until water seeps though its drainage hole). Always remember: plants have a more difficult if not impossible time recovering from over- rather than under-watering.  Secondly and with much emphasis, trial and error! Then try again, again and again for the only sure way to fail is to stop trying!

Photograph by Ariana via Instagram
There's nothing wrong with taking your plants out for coffee, right?!  Amazing words of wisdom!  Thanks Ariana.  I couldn't agree more.
Lastly, I would like to share MY Best Houseplant Care Tip.  My experience comes from over 20 years of trial and error with hundreds of plants.  I currently have around 60 plants that I love and care for daily.
One of the best things you can do for your plants is GIVE IT PROPER DRAINAGE!  Not allowing the water to properly drain can cause many problems.  It creates a soggy environment for unwanted bugs like fungus gnats.  They can be hard to get rid of and will spread to other plants.  One of the worst things that poor drainage can cause is root rot.  Many of us tend to over water and if you do so without drainage, your roots will drown and rot.  Once the roots rot, they will not recover and your plant will die.  The best thing to do is buy pots with drainage holes.  If you need to use a pot without holes you can poor some rocks or pebbles in the pot first and then add in your soil and plant.  Another thing you can do is drill your own drainage holes.  Here's a blog post to show you how.
RECAP:
Do your research
Observe your plants
Get to know your plants and don't over water
Give your plants proper drainage
Whether you're a first time plant parent or a seasoned plant parent, I hope you were able to learn something new today.  I know I did!  This was the first of some great tips!  I have more houseplant care tips from some of your favorite Instagramers so stay tuned!  Thanks for being here and be sure to join me on Instagram for the day to day of Clever Bloom.