Hey!  Thanks for being here today.  We all want things, right?  Whether we NEED them or not is another matter.  Having a slight addict to plants means I also have a need for plant accessories.  Amazon has not only made it easy for me to purchase things and get them at lightening speed but also create wish lists.  I have them for all different categories.  One for the kids, the husband, and the plants.  So today I'm sharing A Plant Addict's Confession: My Amazon Wish List.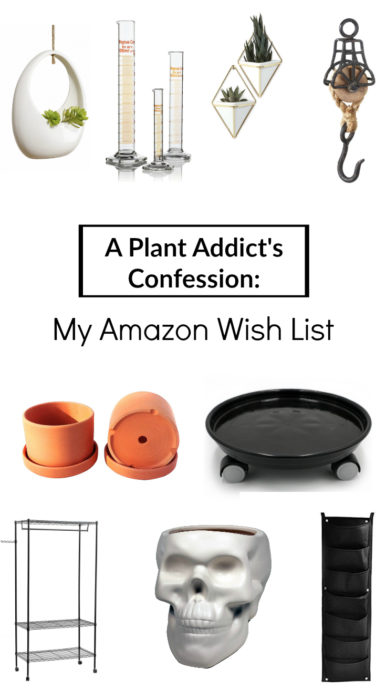 Some of the items on my plant wish list aren't even plant related but I've found a way to make them relate.  Haha!  I haven't tried any of these products- as a reminder- it's always a good idea to read the reviews before buying.  So here's the list!
This post contains affiliate links for your convenience.  See my disclosure policy for details.
These standing glass test tubes would be so awesome for rooting plant cuttings.  Am I right?!  I love the nerdy science lab look and these would be the perfect fit!

I love the shape of these terra cotta pots!  I originally saw them on my friend Ariana's IG account @arianatanabe.  They're perfectly fat and come as a set of 2 with saucers.  I have to have them!!

These floral water tubes will be awesome for our plant swap parties!  They are plastic tubes with soft lids that your plant can root in.  I think they might also work for shipping cuttings to friends!!

For some reason I really love the shape of this hanging planter.  I would probably use it for my tillandsia but you could also use it for flowers or small plants.  It's modern but could be used with almost any decor.

These brass and ceramic wall planters are everything!!!!  They are definitely modern (which is not exactly my style) but I have been looking for something for my air plants and these would be perfect!

This vintage inspired pulley system hook would be SO cool with a plant hanging from it, right?!  I have a super eclectic home and I think this would look really cool.  This will probably be the first thing I buy from my list 🙂

I love face planters but this skull planter is even cooler!  I believe it comes in black and white.  Can you imagine the possibilities of hair on this guy?

This black plant stand on wheels is nicer looking than your typical rolling stand.  I love the black and it has a 130 lb. weight limit.

I know this is a garment rack BUT… you could totally hang plants from it and put potted plants down below on the shelves.  It has wheels so my thought was, you could wheel it in front of the window during the day and away at night when the heat is on.  Or you could wheel plants from inside to outside!

This vertical wall planter has been on my wish list the longest!  I have a wall that this would fit perfectly on!  The only thing is buying enough plants to fill it 🙂

Have you tried any of these products?  I can't wait to start knocking these off the list, one by one!  Also, my birthday is in six months so if you need any ideas?! 🙂  What's on your wish list?  Leave a comment and let me know!  See you next time!