Need a gift for your plant lover?  Look no further!  I've put together a list of Pink and Red Accessories for Your Valentine.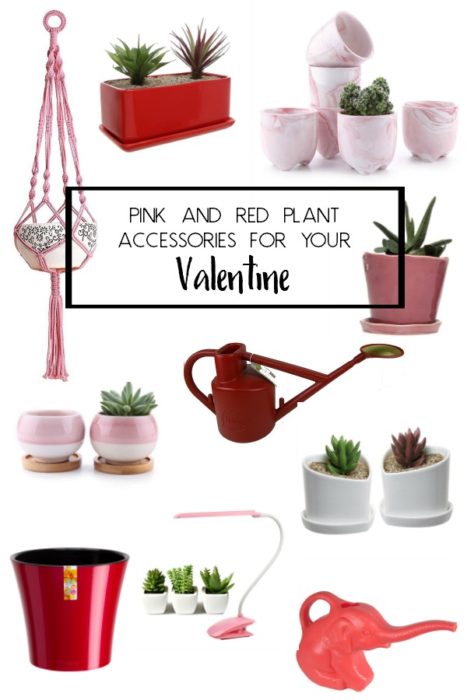 Hello!  Thanks for visiting today!  I just wanted to share some fun things I found on Amazon that I thought would make really cute Valentine's day gifts for the plant lover in your life.  I love Amazon, Amen?! I mean, Amazon Prime has been a lifesaver for my procrastinator self.  I go to Amazon first for almost everything, especially last minute gifts.  They have some really wonderful things that can be shipped in 2 day.  Yay!
This post contains affiliate links.  Read my Disclosure Policy if you have any questions.  Thanks for supporting Clever Bloom!
1. These set of 6 ceramic planters are a fun pink and white swirl.  They're very small but perfect for small succulents or even small rooted cuttings.  Your Valentine will adore these!

2. Pink set of 2 planters with bamboo trays.  These super adorable ball shaped planters are 3″ planters so they would work for small cacti and succulents.

3. This minimalist modern red planter is perfect for housing a few small plants.  Design a beautiful indoor garden for your Valentine!

4. What a fun Pink macrame plant hanger! This beautiful hanger would be amazing with a string of hearts or a heart shaped Hoya.

5. A Red Haws Watering Can is a great gift for any plant enthusiast.  Haws watering cans are my favorite with their removable poor/shower tip.

6. How cute is this pinkish-red Elephant Watering Can?!  My dear friend Morgan has this one (in the gray color) and she uses it to take the most adorable IG photos.

7. This Red 7″ Self Watering Planter is nice for the traveling Valentine.  Up to 4 weeks of self watering!

8. I love the color of this 5″ ceramic planter.  It's a great size for small tropical plants and succulents. It's funky shape will give whatever plant you put in it some added personality!

9. Okay, so these aren't pink…or red BUT they ARE heart shaped!  This Set of 2 Heart Shaped Planters have matching saucers and are just the cutest!

10. A mini grow lamp can be used in your Valentine's home or office.  It has a clamp and an flexible goose neck.  Grow lights are good for tropicals and succulents in low light spaces. (Read reviews and instructions to see if this product right for you)
Super cute, right?!  Now, if I have time, I do like to shop small first.  And this post has some great gift ideas as well, so check it out!  I'll also link to some other plant accessories that I love down below, in case you want to put together a gift basket for your Valentine.  I hope Cupid treat your right this year!  Happy Valentine's Day!