Looking for a way to grow tropicals, herbs, or even cacti in dark corners?  Look no further!  I'm Growing Plants in Dark Corners with Coltura LED Grow Frame and you can too!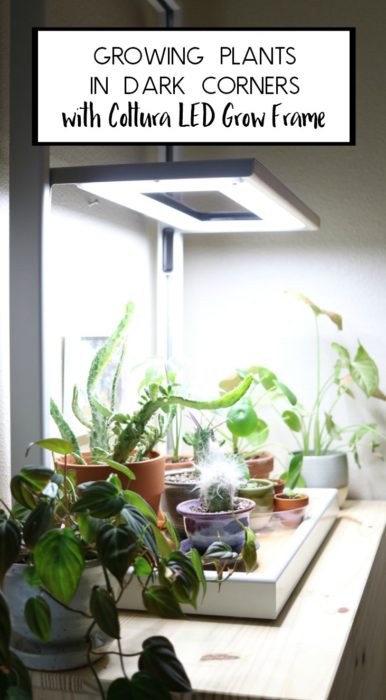 I am a part of a new Product Review Program with Gardener's Supply Company where they provide me with a product to test in exchange for an honest review.
I live in Portland, Oregon where it rains most of the year.  Sometimes it feel like the rain will never let up!  Those dark clouds roll in and all of a sudden it's a lovely shade of gray inside.  It's definitely not ideal conditions for a #plantlady or #plantnerd with a collection of tropicals.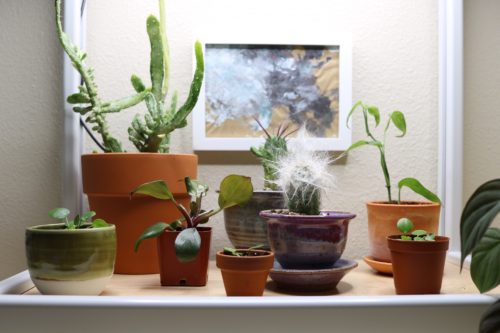 I had been looking for supplemental lighting for a while but with all the options, I just got so overwhelmed and gave up.  I didn't know what kind of light to get and then I had to either by a lamp or get hardware…it was all too much for me.  Nobody has time for that!
I was contacted by Gardner's Supply Company, asking if I wanted to try one of their new products, the Coltura LED Grow Frame.  I had a pretty strict rule.  I didn't do product reviews on my blog.  The main reason was because I only do blog posts when everything else on my schedule is complete and I have extra time (which is only once in a while).  But when I saw the Coltura LED Grow Frame, all the rules went out the window.  I had to have it!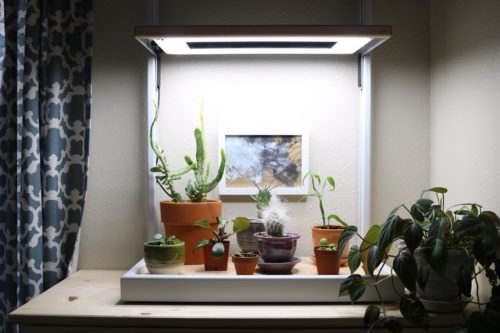 It's super sleek and simple, can be mounted on a wall or used table top, and comes mostly assembled.  All thing I love!
The innovative, slim-profile Coltura Light Panel is concealed, yet contains an amazing 56 LEDs that are calibrated to deliver bright, full-spectrum light boosted with extra blue light to stimulate stronger root growth and enhance photosynthesis.
I'm still learning about lighting.  LEDs, blue light, red light, full-spectrum… but here are a few of the results I'm getting from using the lamp.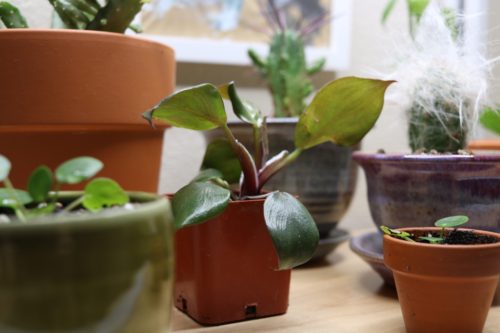 I have a Philodendron 'white knight' cutting that I was gifted from my friend Olena.  I've had it for 10 months and I only got one new leaf in the 10 months.  I had it in a west facing window that gets good late afternoon light.  In the three weeks it's been under the Coltura LED Grow Frame, it's put out one new leaf and another one on it's way!
Many of my plants have to be rotated on a regular basis.  They grow towards the window (light) and many of them (especially my cacti and succulents) have permanent bends in them.  With the Coltura LED Grow Frame, they all grow vertical towards the light above!  No rotating necessary!
I have 4 baby Pilea peperomioides that have been under the lamp for a few weeks and they have doubled in size.  That alone is worth it for me!
The frame is sitting on top of our tall dresser.  The cord is long enough to stretch down and plug in to the other wall which is nice.  It can be mounted, but I chose to use it tabletop. It comes mostly assembled which is great!!  The top part (where the light is) can be adjusted.  I use it about half way down since I have small cuttings underneath.  If you have an orchid or other tall plants, it can be adjusted accordingly.  I was a little surprised at the size.  In the pictures it looked smaller to me but when I opened the box, it seemed much bigger.  Be sure to check out the dimensions before purchasing.
I would highly recommend this product for someone who (like me) needs extra light for smaller plant cuttings.  You could also use it in your kitchen to grow fresh herbs.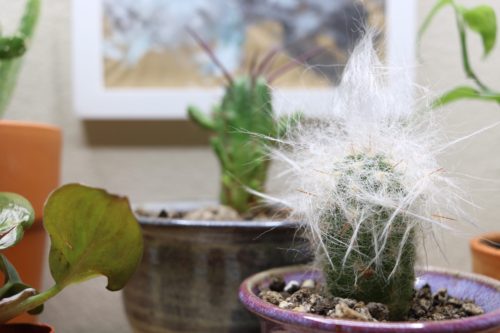 Gardener's Supply Company has an amazing website with tons of products for plant lovers! Explores their website after checking out the Coltura LED Grow Frame.  If you have any questions, leave a comment and I'll get back to you as soon as possible.  Have a great day!!