Add a gorgeous and refreshing element to any beverage with Mint Leaf Ice Cubes.  Perfect for any time of year but amazing for those hot summer days.  Make them for your next party and wow your guests!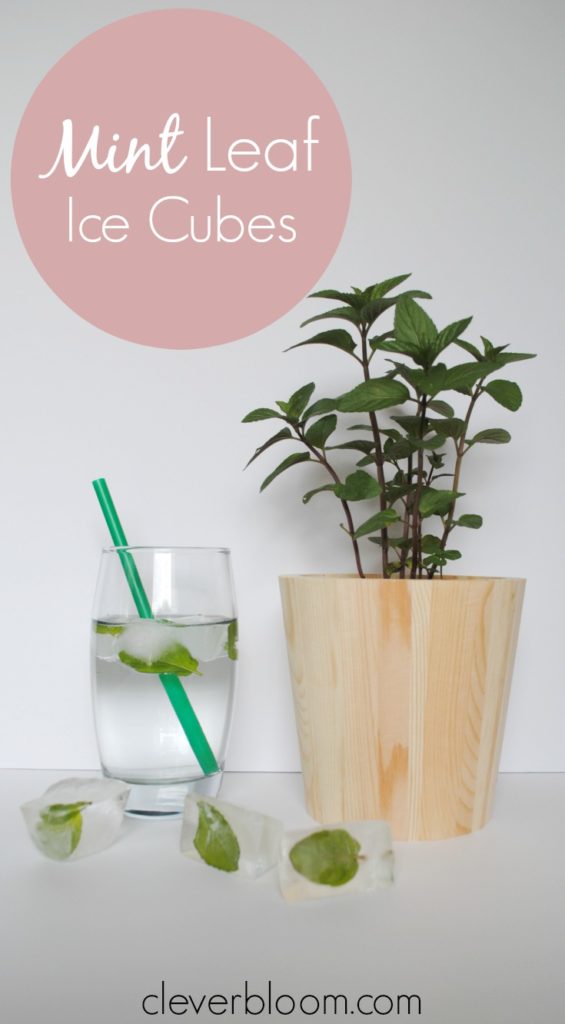 Hi there!  I'm so glad you stopped by today.  Today I'm sharing this quick and easy way to make Mint Leaf Ice Cubes.  Why Mint Leaf Ice Cubes?  A few reasons…
Number 1.  Mint is a soothing herb that can help with indigestion or an upset tummy.
Number 2.  Mint is a natural anti-microbial agent and helps to freshen breath!
Number 3.  Mint can help to cleanse your palate before a meal or in between courses.
Number 4.  Mint is a natural stimulant.  It can help put a skip in your step!
You will want to contact your doctor if you will be using mint in high doses or in concentrated oil form.  It is not for everybody.  Elderly and young children may need to be careful.  Adults with some health conditions/concerns may also need to be careful.
You need:
-Mint Leaves
-Ice Cube Trays
-Water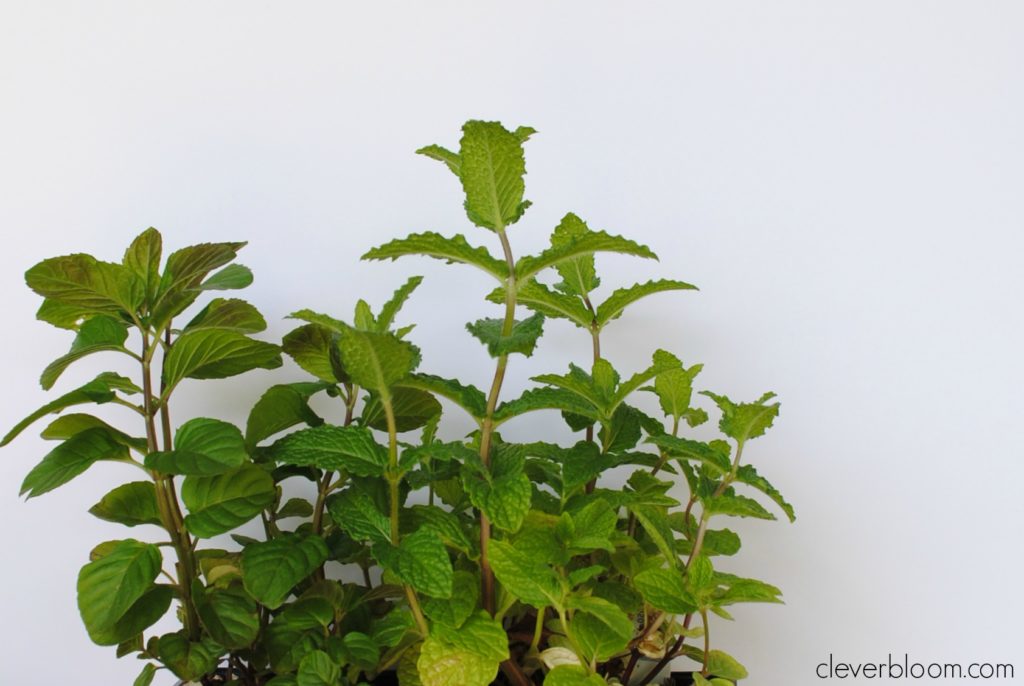 There are dozens of different kinds of mint!  You can buy plants at your local garden center, grocery store, or nursery.  Here I have Peppermint and Orange Mint.  Be sure to pick plants that look healthy with strong green leaves, free of bugs and disease.
Mint Tea Ice Cubes:
 Pinch your leaves off and rinse them well.
Roll each leaf around in your fingers just to break the leaf up a bit.  This will release the flavor.
Place 1-2 leaves in each cube and fill with water.
Freeze.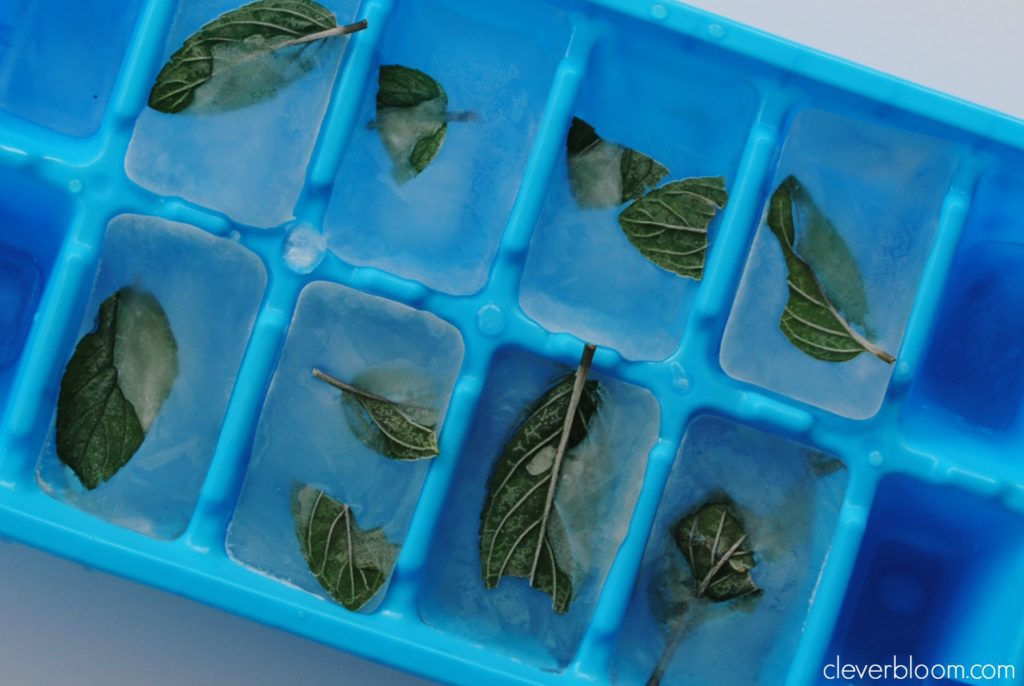 Try Mint Leaf Ice Cubes in:
Iced Tea
Water
Lemonade
Cocktails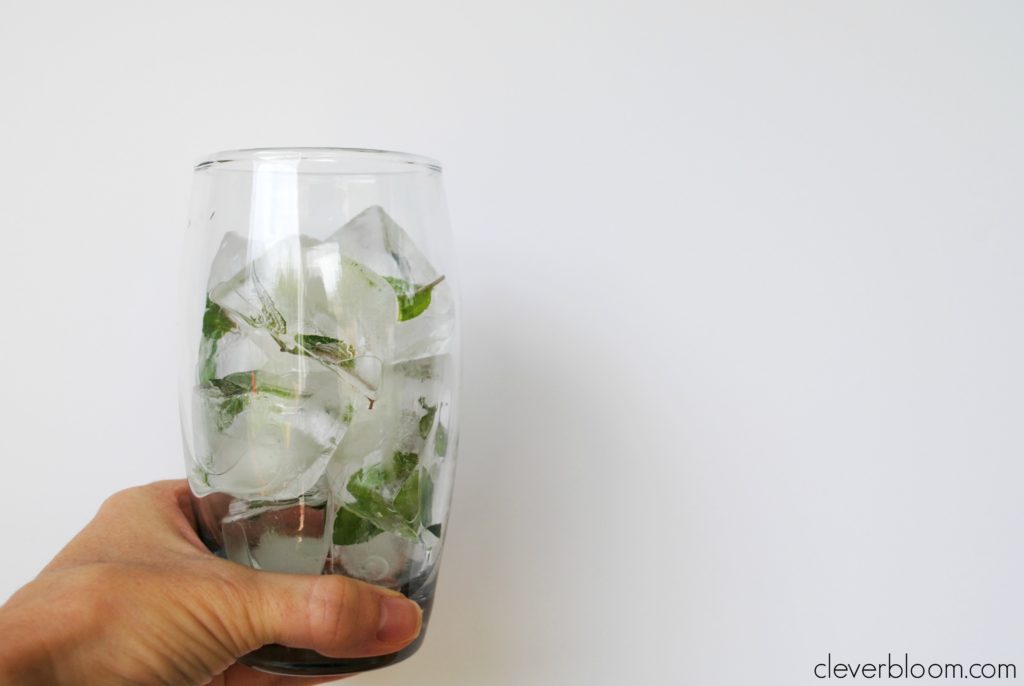 My favorite drink is filtered water pored over Mint Leaf Ice Cubes and frozen cucumber slices.  It's so refreshing, not to mention beautiful looking.  You can also use other edible plants like roses, lavender, and rosemary.  Use fruit and veggies like blackberries, strawberries, cucumbers, and lemon.  So many possibilities and combinations.  You'll find one perfect for your next party!
Thanks for being here today!  Join me on Pinterest where I pin my favorite plant, garden, and decor inspiration daily!  We'll see you next time!