Learn how to keep herbs growing all season long!  Follow these easy steps for fresh herbs at your fingertips.  This is not complicated so it's perfect for beginners!
Hello!  I'm glad you're here today.  I'm guessing you're here because you are a beginner gardener?  Good!  Me too!  I've been successfully (mostly) growing indoor plants for years.  Recently though, I've been doing more and more outdoor gardening.  This year has been a big year for me.  In preparation of  being as successful as possible, I've been doing a lot of research and taking classes.  I've learned so much I think my head is going to explode!  Today I'm going to show you how to Keep Herbs Growing All Season Long (in a container).  No fancy garden lingo here!  Just easy step by step instructions.  Sound good?!  Good!
I'll be using Cilantro because well, I just LOVE Cilantro!  There's nothing better than tacos with fresh garden picked Cilantro on top!  This method works for other leafy herbs too.  Not all herbs can be harvested multiple times like Cilantro but you can still harvest all season with the seeds you sow every few weeks.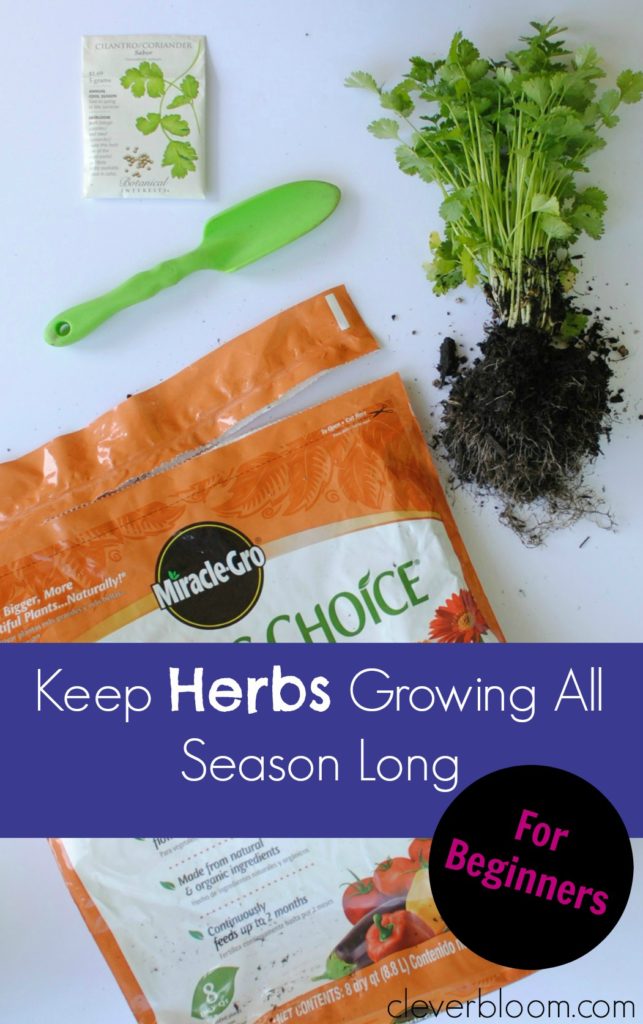 You need:
-A container (at least 12″ deep)
-Potting Soil (for outdoor use but not garden soil)
-Fertilizer (optional)
-Water
-Seeds
-Herb start
Your Container
The container you chose should have drainage and be at least 8″-12″ deep.  Make sure your container is not treated with chemicals on the inside.
Your Soil
We could talk about soil forever.  In short, do not use garden soil, it's too heavy.  Use a potting soil.  I mix a bit (according to the directions) of organic fertilizer in with the soil.
Your Herb Start
When purchasing starts make sure they look healthy.  Chose a start that is free of bugs and disease.
Your Seeds
Check expiration dates on your package to make sure they're not expired.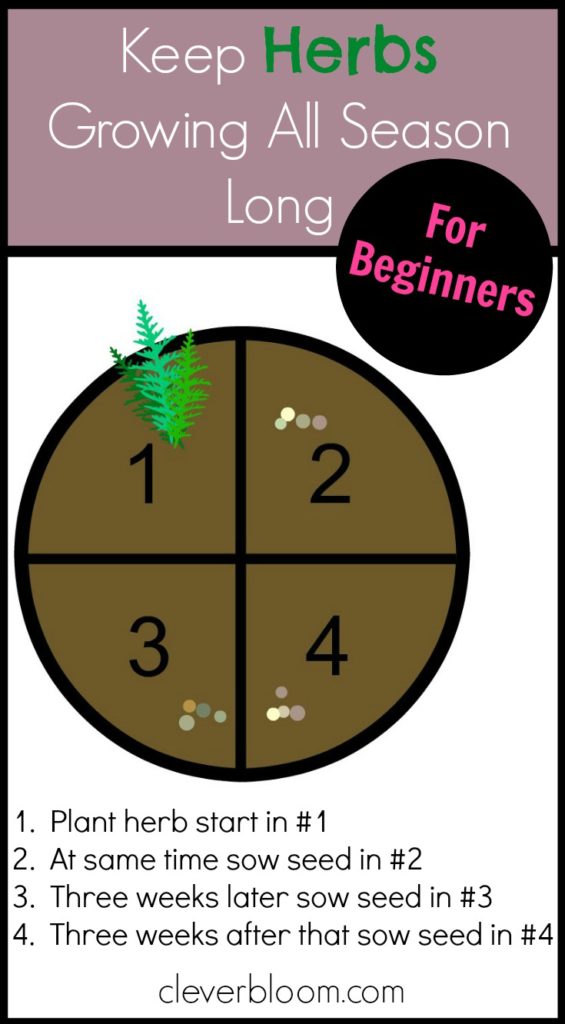 Let's get started:
 Fill your container with soil (and fertilizer optional).  Fill to 1″-3″ from the top.
Draw a cross in the soil.  You'll want 4 pie shapes.
In the first section dig a hole and plant your start.
In the second section sow seed.
Wait 2-3 weeks and then sow more seed in section 3
2-3 weeks after that you will sow more seed in section 4.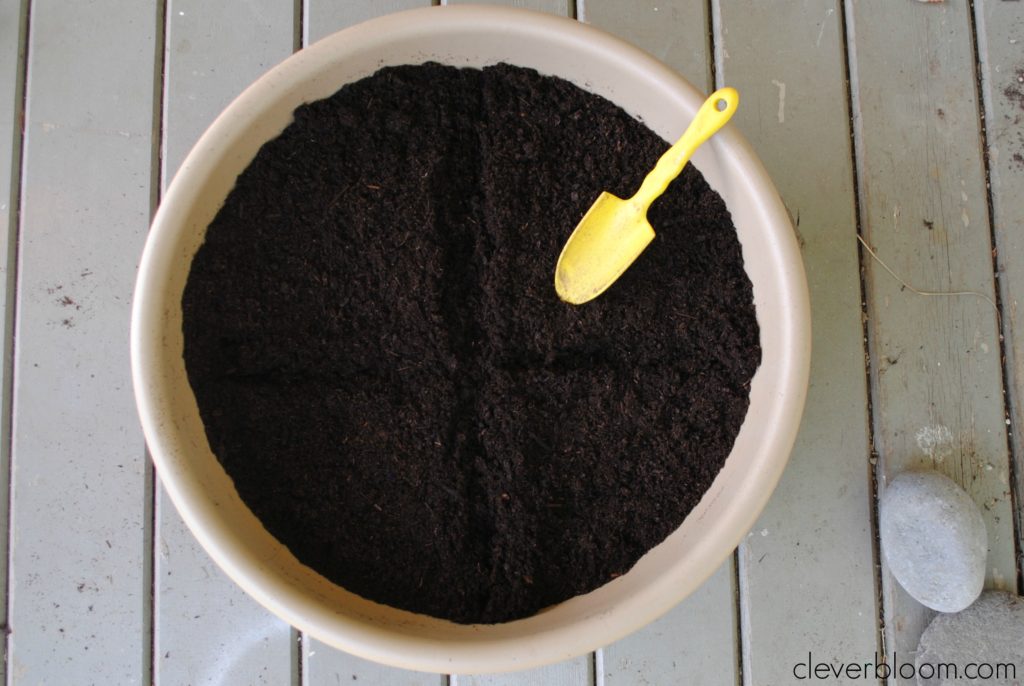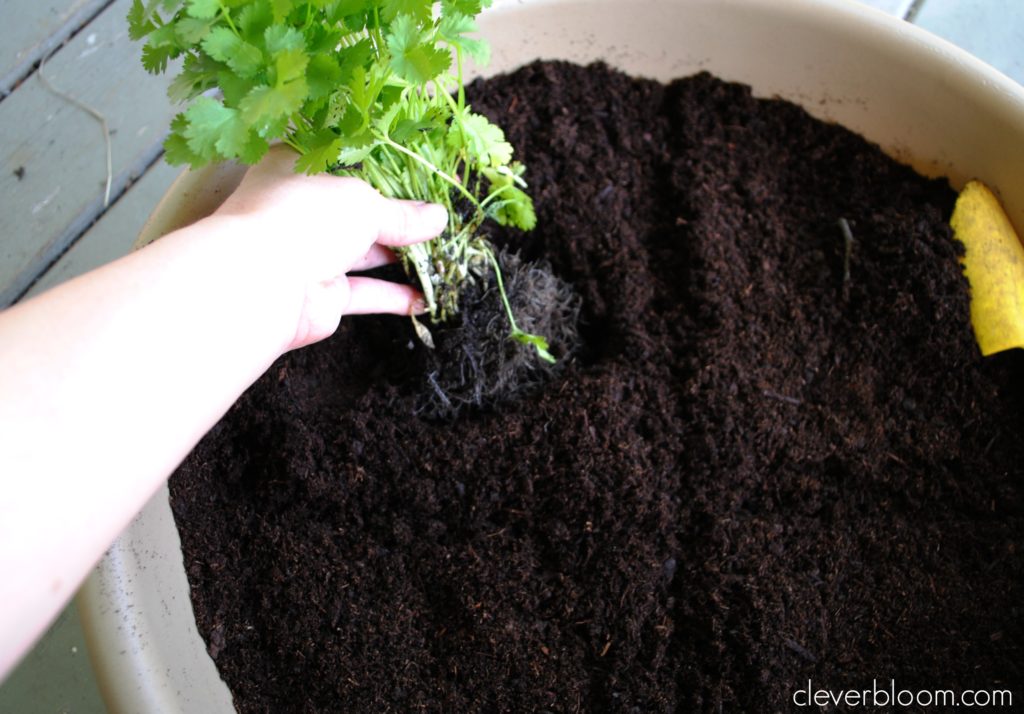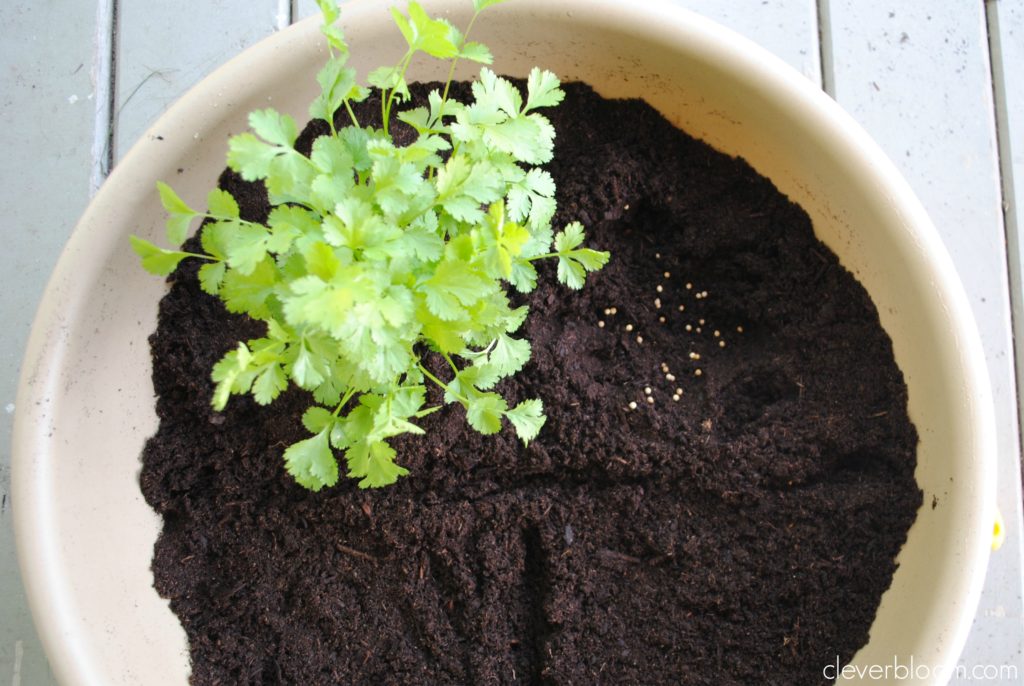 The idea is that you will harvest the cilantro start for the first time about a week after planting (or when it reaches about 6″ long).  In the meantime, the first sown seeds (section #2) will begin to grow.  About that same time, you will be sowing seed in section #3 and so on…
My last cilantro plant grew back two times.  They can grow back 1-4 times depending on how often you harvest.  The more you harvest, the more times it will grow back!  Once the cilantro has flowered you will not want to harvest it anymore.  You can let it continue to flower and produce seed.  The seed is coriander and can be crushed/used in cooking as well.  Bonus!
Harvesting
You are basically giving your cilantro a hair cut.  With clean sharp scissors cut cilantro about one inch from the soil line.  I always leave a few leaves on the plant ( I'm not sure why, I read it somewhere so I just do it.  ha!)  The top inch or so it what you will use to cook with.  I usually harvest about once every 7-10 days.  Cilantro and other herbs can be dried or frozen if you find yourself with too much at once.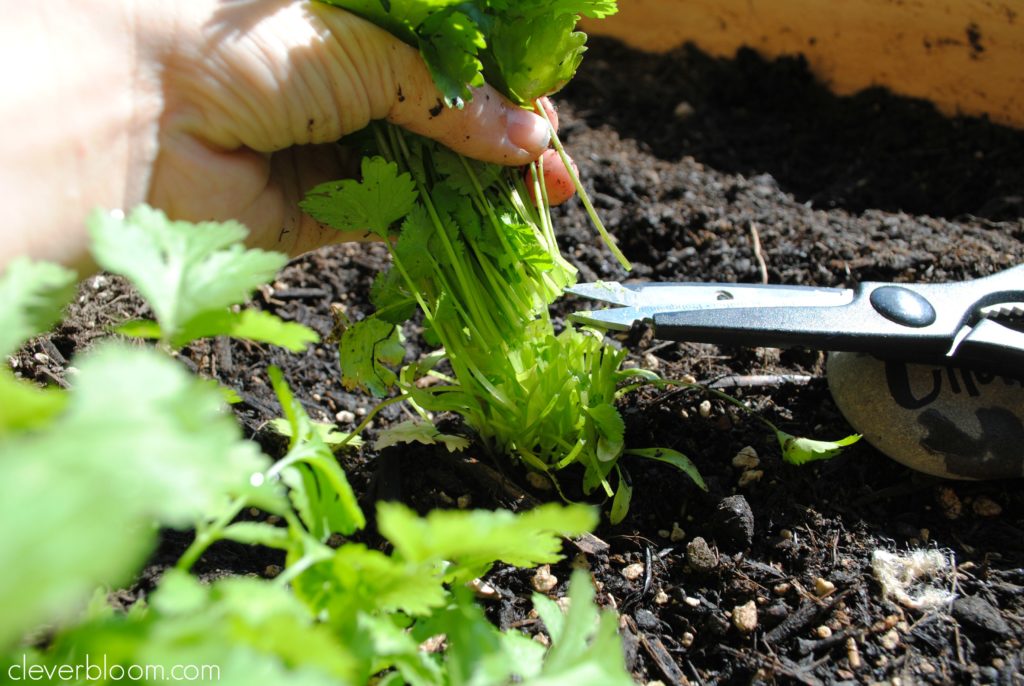 That's pretty much it!  Super simple, right?  Some herbs will grow faster than others and everything depends on climate/sun/water…If you find that your seed is taking a while to grow, you can sow seed in your next section 1-2 weeks apart instead of 3 weeks.  Keep going around that circle, sowing seed as many times as you can!  Some herbs will do well indoors year round so you can do this same method indoors too!
Do you have any tricks for keeping your herbs growing all season?  If so, leave me a comment.  I would love some new tips.  You should probably visit the @cleverbloom IG feed too because I share my plant craziness every day!  Thanks for visiting me today!  See you next time!