Hello!  So glad you're here.  Today is fun because I'm talking about Houseplant Watering Tips AND I'm sharing one of my favorite new accessories!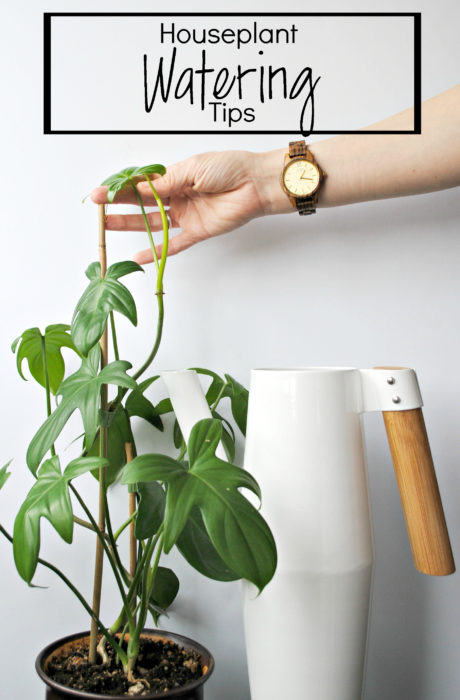 This is a sponsored post.  Please see my disclosure policy for details.
Just like so many other houseplant care tips, we all do things differently.  We all live in different climates, we all have different plants and we all think our way is best.  Haha!  So today I'm going to share a few  houseplant watering tips that work well for me.
TO BEGIN
Identify your plant.  It's important to know the general watering needs of your plant.  For example, succulents require much less water than a begonia.
In general, plants will need less water in dormant periods and more water in Spring/Summer when they're producing more foliage.
Study it's appearance and characteristics.  Is it showing signs of thirst?  This Homalomena/Aglaonema wallisii 'Selby' was clearly thirsty.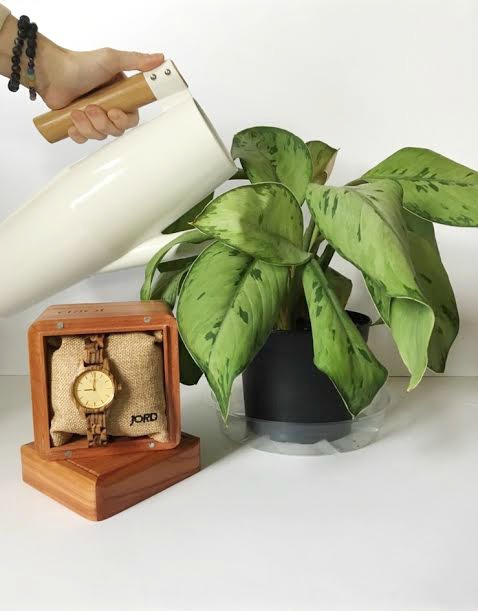 I placed this watch here to show you the amount of time it took for this plant to perk up after watering.  The first photo is 9:oo am.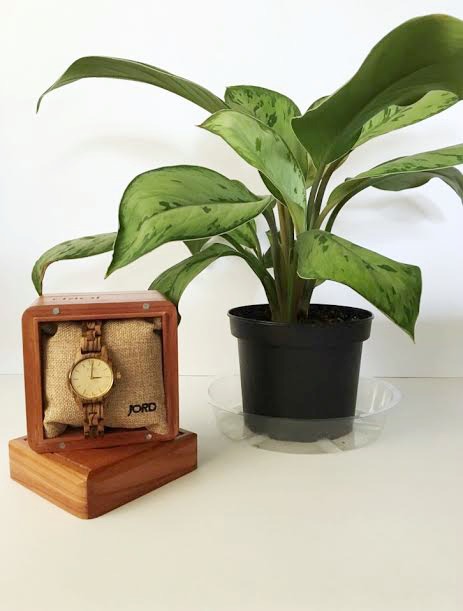 By 3:00 pm the plant had completely perked up!  I love timing my plants to see how long it takes.  Some will perk up within minutes and some take hours.  It helps that I have this gorgeous watch to keep time on.  If you are wondering about this gorgeous watch keep reading to the very end!  It's important to dump your overflow tray of excess water once the draining is complete.  Do not leave any standing water.
Please Do Not over water your plants.  Plants will often die from side effects of over watering.  With most of my plants I let the soil completely dry before watering again.  This will not work for all houseplants but once you get to know your plant, you can make that decision.
WATER
I have a few special plants that I buy bottled water for.  Please don't tell my husband!  It's just that they have stomata (pores) that will get clogged with mineral deposits if I use tap water.  I also noticed that my spider plant doesn't get brown tips when I used bottled water.  It's expensive so you can't do it if you have a lot of plants but I find it to work really well!
Rainwater is also good for plants, after all, that's how they get their water in their natural habitats.  You can collect it in jars or tubs.  It's not always available but a great choice if you can!
Tap water works fine as long as it's not too hard.  You also don't want to use softened water as it has too much salt.  In general tap water should be fine.
WATERING
I make sure all of my plants have drainage.  If you have a pot with no drainage check out this blog post.  It's important for the water to be able to drain properly.  If the roots sit in soggy soil, they can rot or suffocate.
Poke a few holes in your soil to aerate.  This allows the soil to absorb the water easier.
Slowly poor the water into the soil until it starts to drain out the bottom.
I hope I was able to help you with some of your watering questions today.  Leave a comment if you have any other questions!
Before you go, were you wondering about that watch earlier in the post?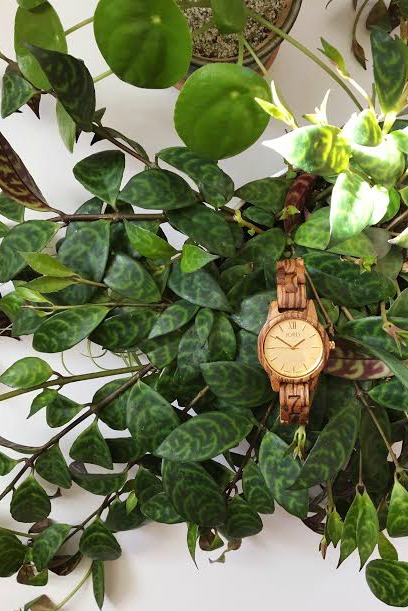 Yes, this one!  I received this watch from JORD and I am giddy over it!  It's so beautiful with it's zebrawood band and champagne face.  It's perfect in it's bed of zebra like lipstick plant, right?! I love that it comes in a nice wood box and a major bonus, they size it for you before they ship it!  This would be a perfect Mother's day, Father's day or birthday gift.  They come in men's and women's, so there's something for everyone.
I love the wood!!  You know how much I love plants, trees and incorporating those elements into my life.  This watch is perfect for me and you too!  You're in luck because JORD is giving is one of my followers a $100 e-gift card to their website!!  All other entries will receive a $25 consolation e- gift code at the end of the contest.  Visit this link  to enter.  Hurry because the contest ends on 3/5/17.  Good Luck!