Join me today as I show you how to make these beautiful DIY Succulent Planters.  They are perfect for every day décor or use them as a wedding centerpiece!  Allow your succulents to grow in an outdoor environment indoors.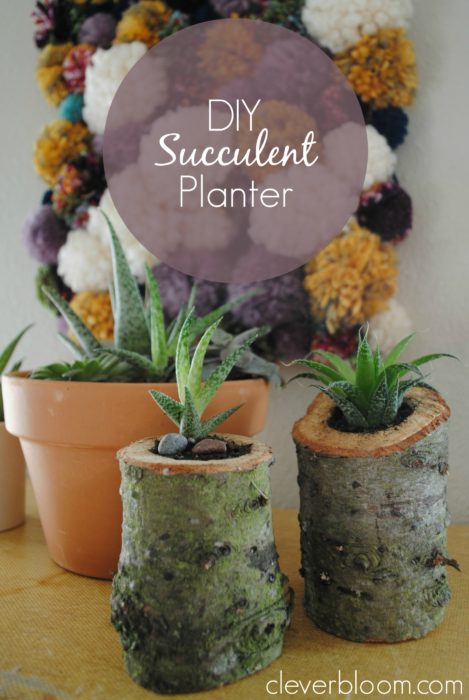 Thank you so much for being here today!  I am SO in LOVE with these DIY Succulent Planters.  I mean, aren't they beautiful?!  The best part is they cost zip to make and are fairly easy.
I saved our Christmas Tree trunk because I thought I would make wood round ornaments for next year.  It's been kicking around the house for months and frankly, I was getting sick of tripping over it.  I needed to do something else with it.  I had a bunch of succulents that I had just planted and had a few left over with no home.  I remembered seeing a picture where someone had planted a bunch of succulents outside in an old tree stump.  I loved it, and thought I could do something similar but for inside.  Follow the tutorial below to make these beauties!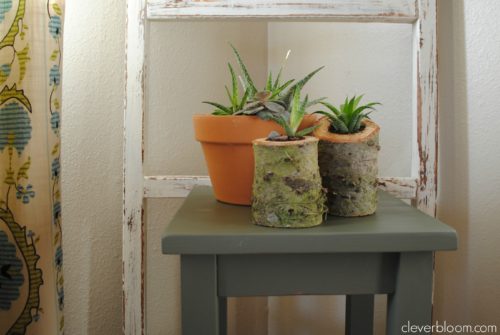 (Do you like this antique looking decorative ladder?  Click here)
You'll need:
-Old tree trunk or thick branch (I used our noble fir Christmas tree trunk).
-Saw (we used a hand saw).
-Drill
-A hole saw attachment for drill (we used 1.5 inch).
-A small drill bit
-Marker or pen.
For planting:
-Small rocks or Pebbles
-Succulent/Cactus soil (well draining soil).
-Succulents
Let's get started!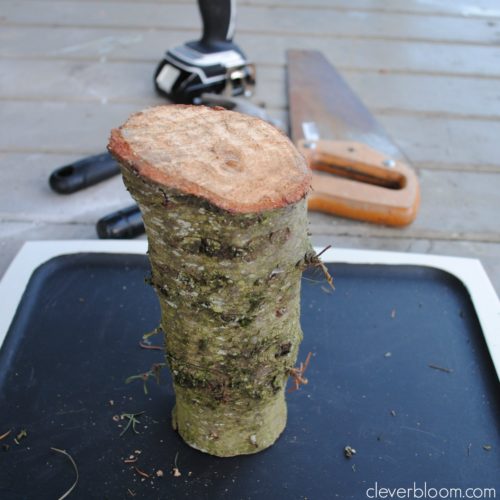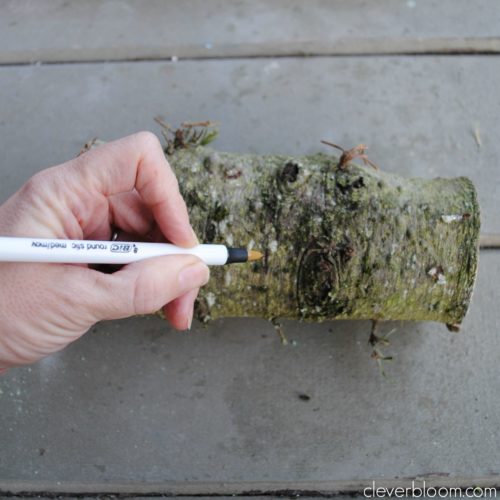 1.  First gather your tools and your tree trunk.  Mine was big enough to make 2 (or more) so I marked the spots where we needed to cut.  I say "we" because my husband had to help me.  Ha!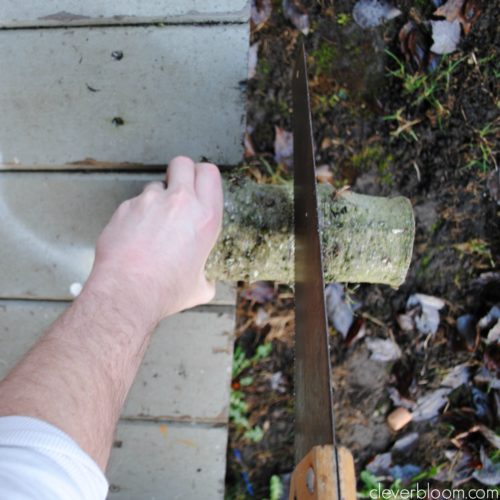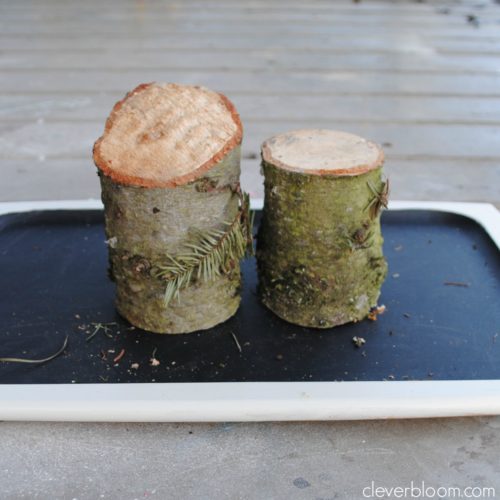 2.  Now safely saw your trunk.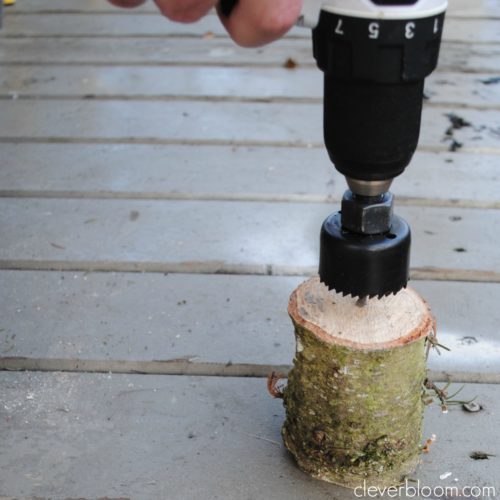 3.  With your whole saw attachment drill the circle shape into your wood piece.  We went down as far as the attachment would let us go.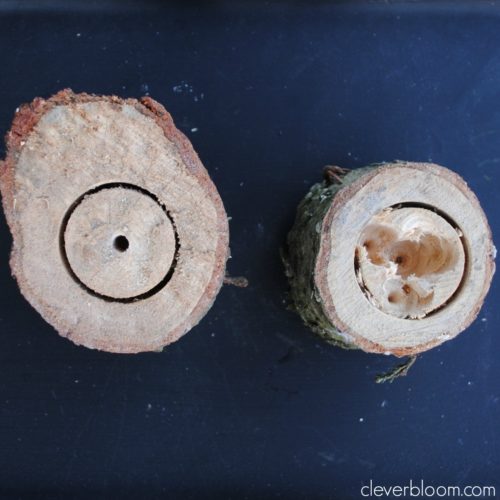 4.  Now you'll have something that looks like this (above picture on left).  Use your regular small drill bit to chisel out the wood (above picture on right).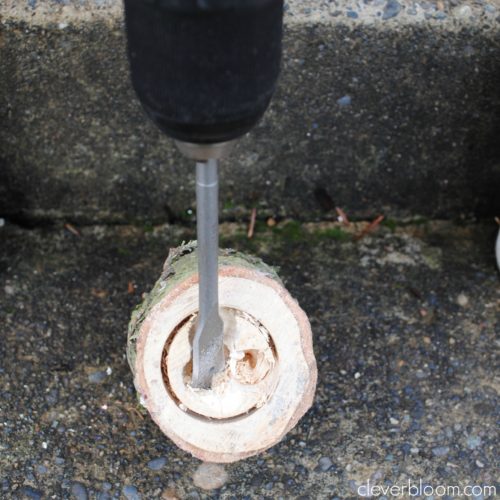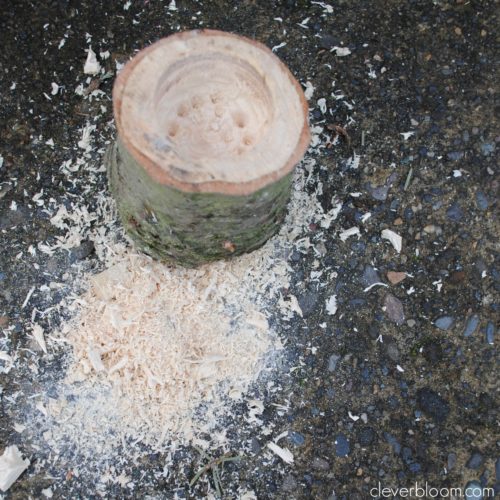 5.  Keep chiseling until you reach desired depth.  Mine goes down about 2″ or so.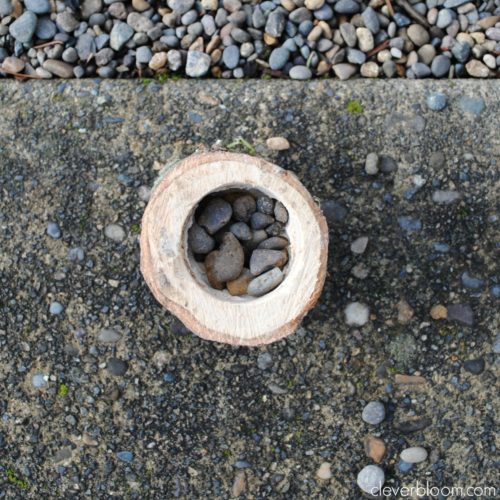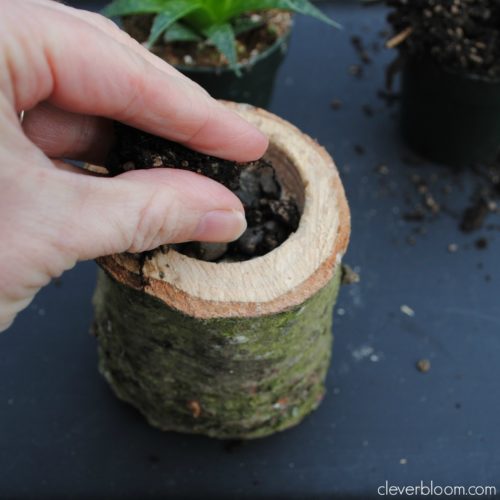 6.  Now for planting!  Fill a thin layer of pebbles.  And then  a thin layer of succulent soil.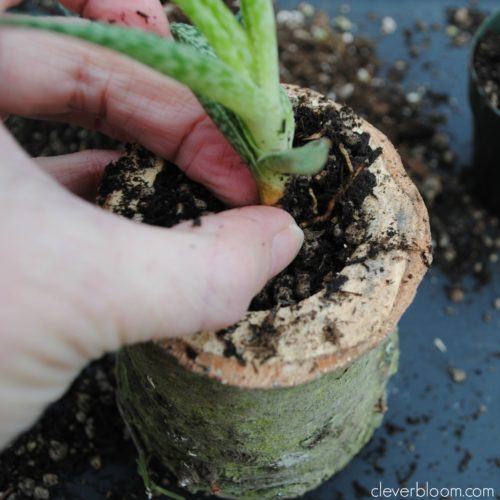 7.  Place your succulent in the whole and fill the rest with soil.  Brush off excess dirt and you're done!  Don't water!  Read below.
I'm not a succulent professional but I've read some great tips on planting that I'll share with you.  Succulents need well draining soil.  If you are planting them in a container with no drainage hole, you will need to use rocks or pebbles in the bottom of the container.  Their roots can't sit in water!  Water your succulent in the current container about 2-3 days prior to transferring.  Once you've transplanted your succulent, it's best to wait 1-2 weeks to water.  I know it seems weird but they will need to get used to their new home before being watered.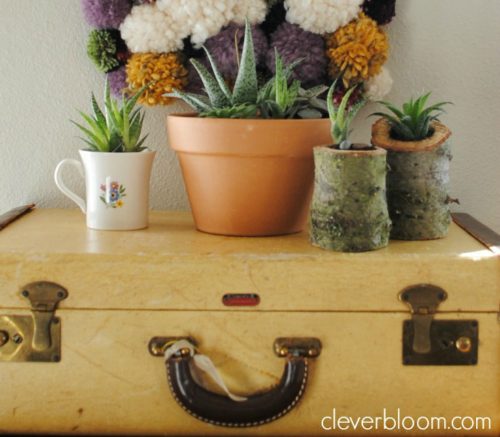 (Click here to see more of the Pom Pom Wall Haning in the photo above.)
I hope you get a chance to make these DIY Succulent Planters.  Pin the photo below to your favorite DIY board on Pinterest for easy access to this tutorial.  I would love to see your planters so tag me in your photos on Instagram too @cleverbloom  Have a great day and happy planting!