---
Hey everyone!  Thank you so much for joining me today.  I am beyond excited to share this Pom Pom Wall Hanging with you.  I mean, how adorable is it?!  It's  super groovy with a 70's vibe, lots of texture, and brings so much interest to the room.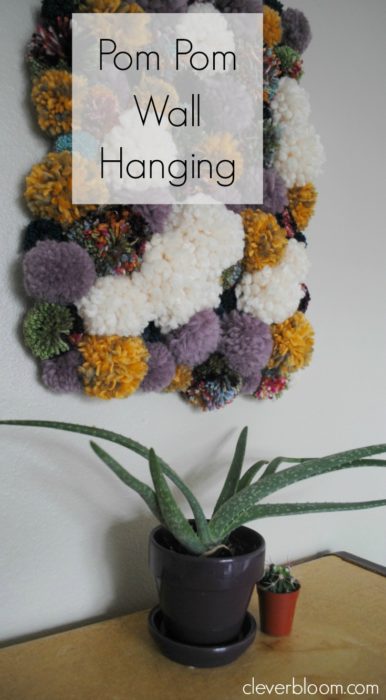 We have this small wall area between the front door and the window where we desperately needed something, and not just anything.  I've tried wreaths, pictures, art, you name it!  Nothing was right for that spot until now.  If you've been following my blog you'll know that I have a weird obsession with pom poms.  I use them whenever possible.  I made this Wool Pom Pom Wreath that turned out so beautiful.  I had it in the spot for a while but felt like I needed something with more color that I could leave up year 'round.
I also felt like we needed something that wasn't a wreath.  Don't get me wrong, I love wreaths!  (You can see some of my favorite wreaths here.)  But I wanted something different.
This was the result!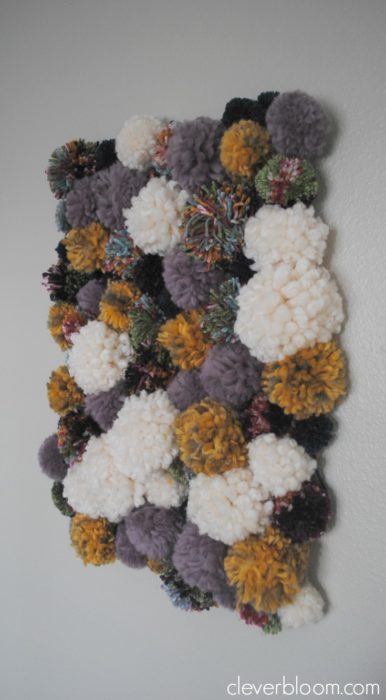 You can make one too!
You'll need:
-Yarn 5-6  skeins
-Stiff Plastic Canvas (I used Darice brand.  12×18 $1.99)
-Scissors
-Pom Pom maker (or you can use your fingers)
-Hanging tools (I used 2 push pins)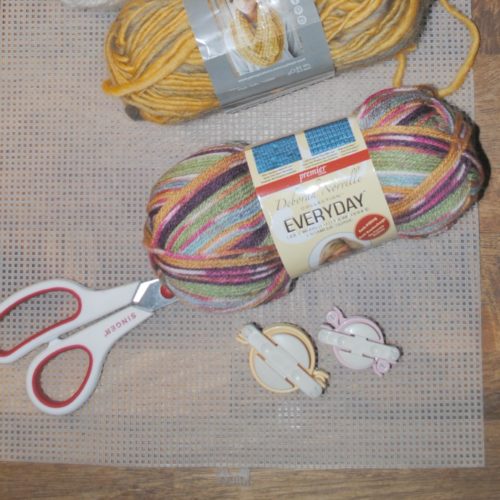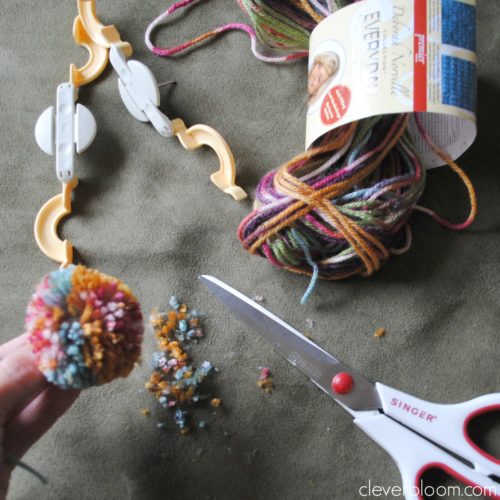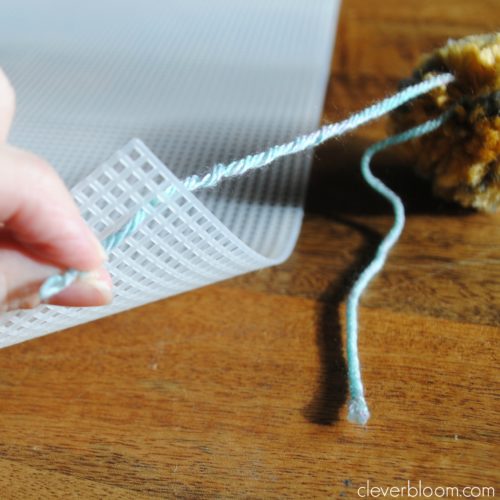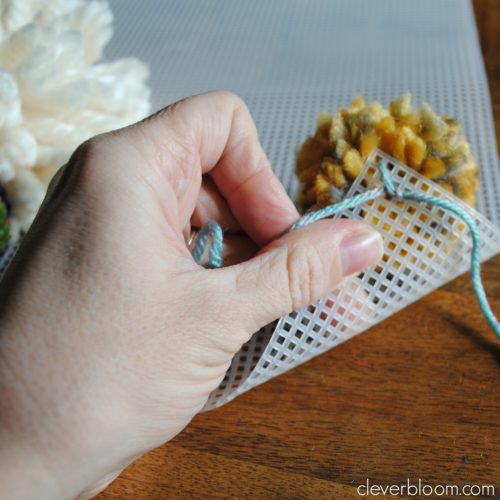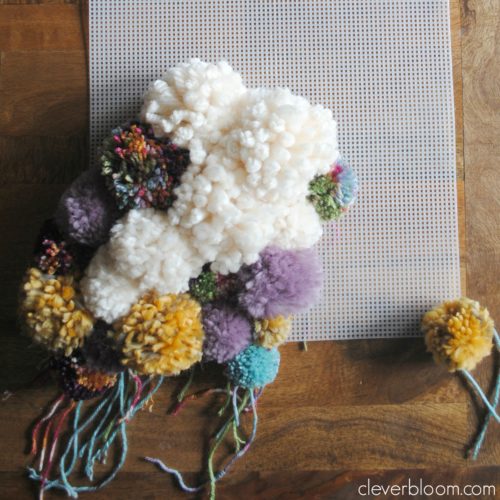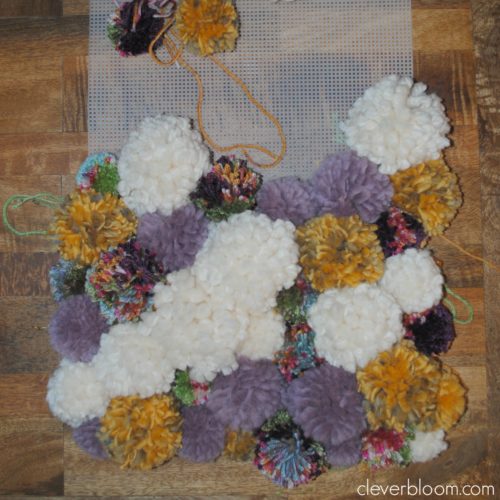 Let's get started
 Make your pom poms.  I used a pom maker and I used my fingers to make different sizes.  To achieve this look, you will want to make different sizes.  I did about 5 different sizes and I did about 70 pom poms total.  When you tie around the pom pom, leave at least two 3″ tails.
Take your pom poms and start tying them on.  Start at one corner ( I started at bottom left).  You want to tie them close together.  Continue to tie them on but don't cut the tails yet.
Once you're done, hold it up to the wall to see if you need to move any around or add any.  Cut all your tails.
Now hang.  I just used a thumb tack on the top middle and one in the middle.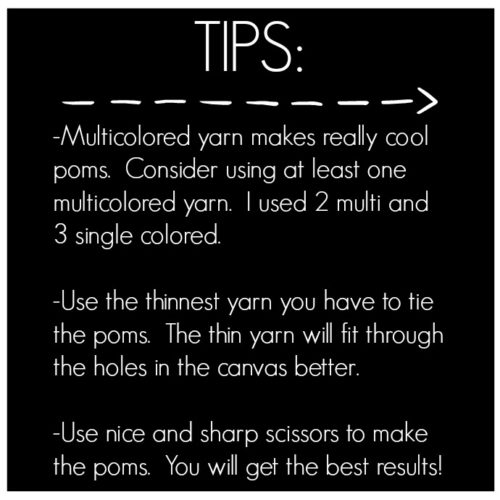 I've mentioned it before, but when I start making pom poms my husband gets this look on his face and there's a slight eye roll.  Ha!  But even he really loves the way it turned out.  It's perfect for the spot and I can't stop staring at it!  Thank you so much for visiting today.  You can follow me on Instagram for updates on my latest posts.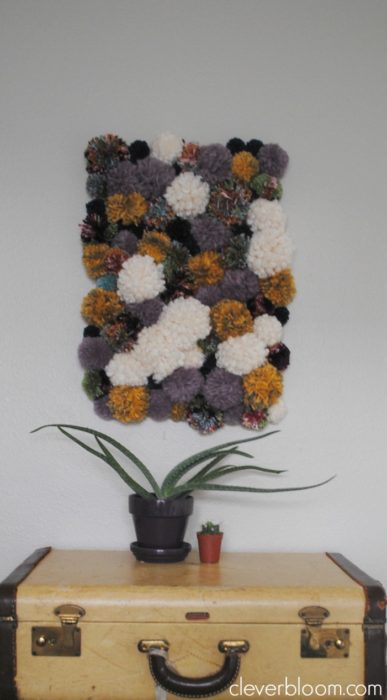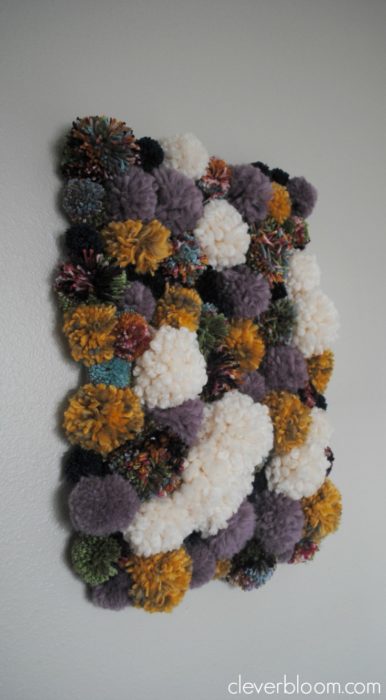 And if you love this Pom Pom Wall Hanging as much as I do, PIN the photo below to your favorite Pinterest board for quick reference!  See you next time!