Learn how to make Tiny Succulent Bouquets for any occasion! Perfect for weddings, birthdays, mother's day, a sick friend…and when you're done with the bouquet, re-pot the succulents!  A-ma-zing!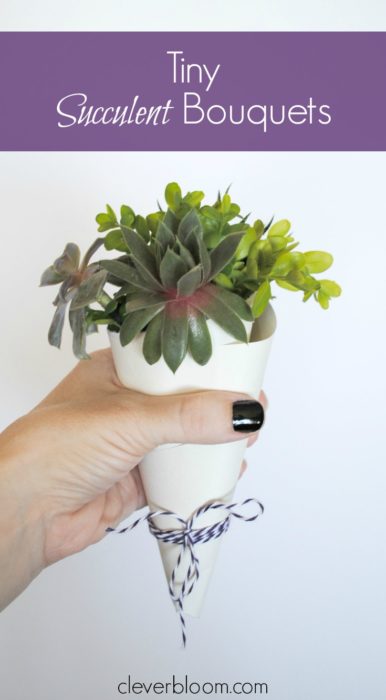 I'm so glad you're here and I'm so glad I'm here too!  Does that sound weird?!  My last post was almost two weeks ago and I feel like I've been away forever!  It was a super busy Easter week and then my oldest has been having some health issues so my creative juices just weren't flowing…AT ALL…like AT ALL!  I made sure to keep sharing on MY INSTAGRAM but I just couldn't do a blog post. Boo!
Well, I'm back so here we go!  A while ago I did a post on How To Make Tiny Bouquets.  You guys LOVED it!  You shared the love like crazy on Pinterest (Thank You!) and I've been wanting to make more bouquets ever since.  I'm anxiously awaiting what I believe will be the first year we get actual peonies on our bush, yay!, so in the mean time, I needed to come up with another bouquet idea.  I've been doing pretty well with succulents this year (I've mostly killed them in the past) so I thought, why not do a Succulent Bouquet?!  I've seen them used in wedding bouquets and they just bring a fun uniqueness to a floral bouquet.  Today I'm sharing how to make a Tiny Succulent Bouquet using just three succulents and some filler.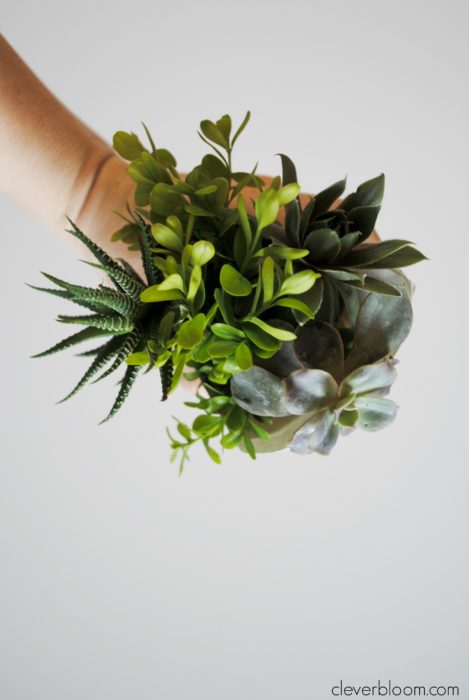 The first step is preparing succulents for a bouquet.  Disclaimer:  I have had absolutely no training or education on Plant Science.  I am not a Botanist (like Linda Clickclocken…or was it Martin Clickclocken?!) nor have I ever worked anywhere where I learned such skills.  Everything I talk about today is information I've received from the internet and my own personal experiences.  Don't forget, I was still killing succulents up until a year ago!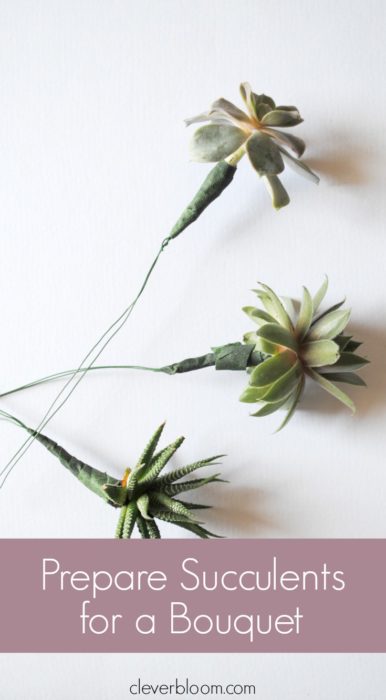 Take your succulents out of their pots and shake as much soil off as possible.  Dunk the root area in a small bowl of water to loosen up the rest of the dirt.  This gives it a good soak before and cleans off most of the dirt.  Now you have your clean root area.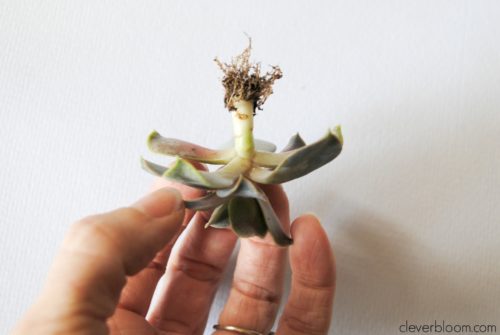 Take your floral wire at desired length and poke it through the thickest part of the root.  Pull through and twist to make a stem.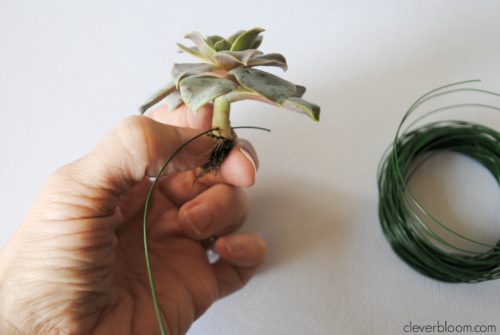 Now use your floral tape to wrap around the root and wire.  This will secure the wire to the root and make it sturdy.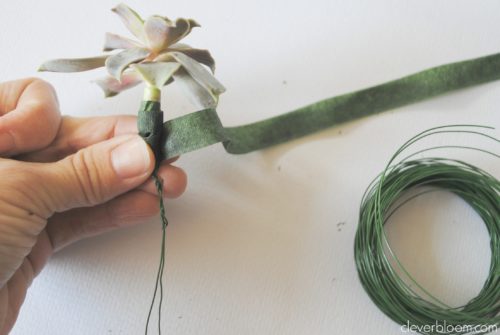 Repeat steps for as many succulents as you are using.  I used three for a Tiny Succulent Bouquet.  Let's face it, Tiny things are so much cuter!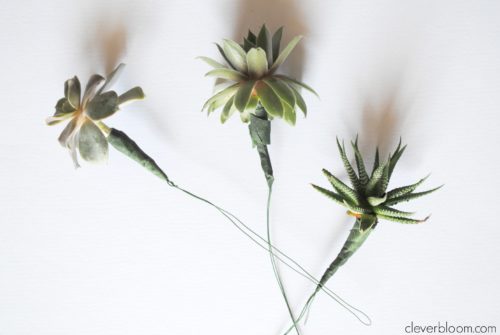 I didn't want to buy any fillers so I just used what was in my yard.  I chose to use boxwood so I cut a few stems to add to the bouquet.  Arrange your succulents and filler to desired look and wrap the bottom half in floral tape.  This will keep it together but won't hurt the bouquet.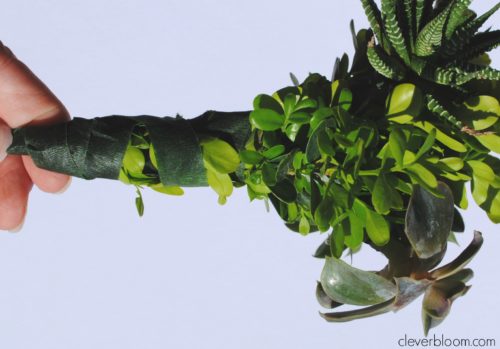 Use a piece of butcher paper, wrapping paper, or news paper around your bouquet.  I usually cut a square and fold it in a triangle.  Stick the bouquet in the middle and wrap the paper around both sides.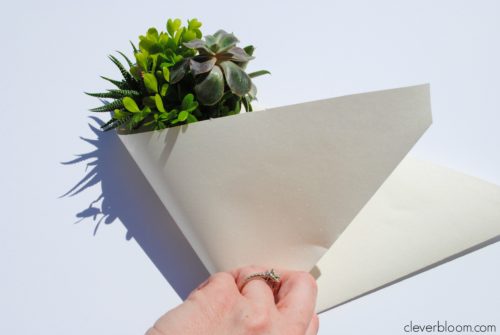 Secure with ribbon or baking twine and you're done!  These are so cute and fun to give as gifts.  Be sure to let them know they can replant the succulents when the rest of the bouquet dies.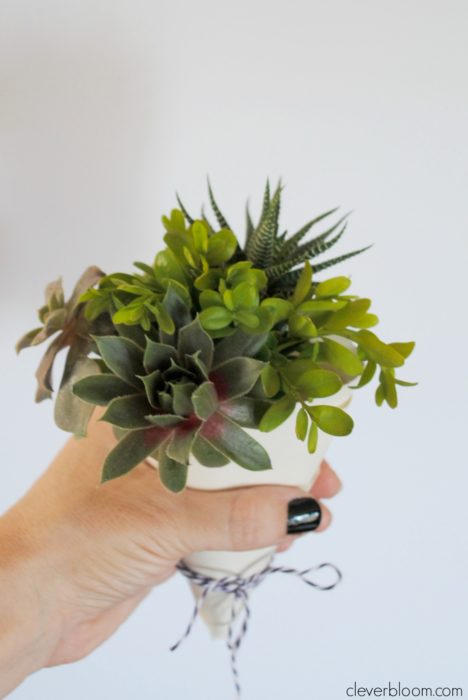 Some things to know:
 Not all succulents will make it through the re-potting process.  I've had about a 75% success rate.
You should re-pot succulents within 5 days for best results.
If you put the bouquet in water the filler will last longer.  I did not and my filler wilted within the day.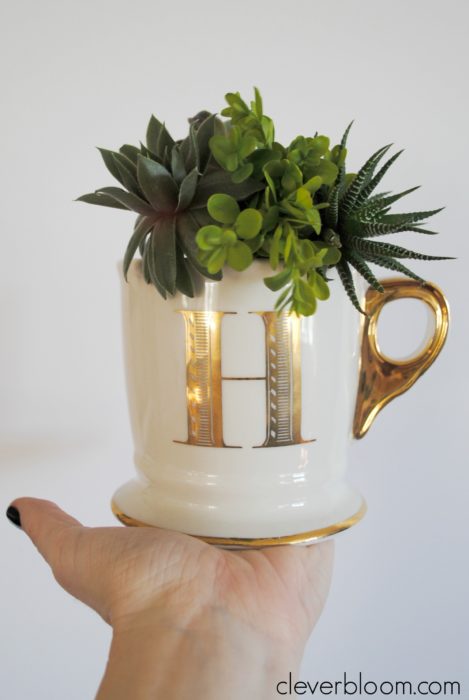 Thank you for being here today!  I had so much fun making this sweet little bouquet and I hope you do too!  If you liked this post you may also like DIY Succulent Planters and How To Make Tiny Bouquets.  I just love how things are blooming around here!  It's happening so early and I'm totally okay with that!  I love making bouquets and can't wait to share more with you in the coming months.  Have a great day and we'll see you soon!