Learn how to make this super cute Pom Pom Heart Bunting today.  Easy step by step tutorial with lots of pictures to help you along!
Hello!  Okay, I'm considering having a new "Pom Pom" category in my main menu.  Ha!  I mean, I can't stop with the pom poms.  There's just something about them that make me happy.  Today I'm sharing this super cute and unique Pom Pom Heart Bunting.  I had the idea the other night so I ransacked the garage for the red yarn I knew I had.  I found it!  But only after finding lots of other treasures that made their way into the house.  Uh oh!  Don't tell Tim.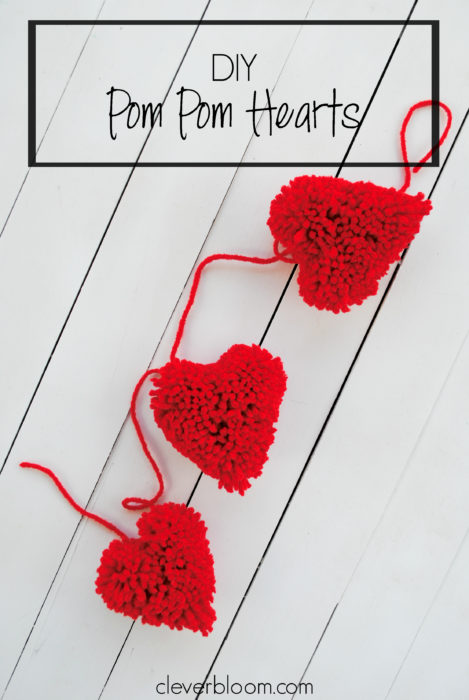 How sweet are these little hearts?!  The bunting I made only has three hearts.  Each heart requires 3 poms so when my ADD kicked in, I couldn't make anymore.  Ha!  You could also just make the hearts and lay them around the house for Valentine's day, or maybe on the bed for your anniversary?!
Let's get started!
This post may contain affiliate links for your convenience.  See my disclosure policy in the main menu for details.
You'll need:
-Yarn (I used this Red Heart Super Saver in Red)
-Sharp scissors (I use this 2 pack from Singer )
-A pom pom maker or At least 3 fingers (I use these pom pom makers but I also show you how to do it with your fingers)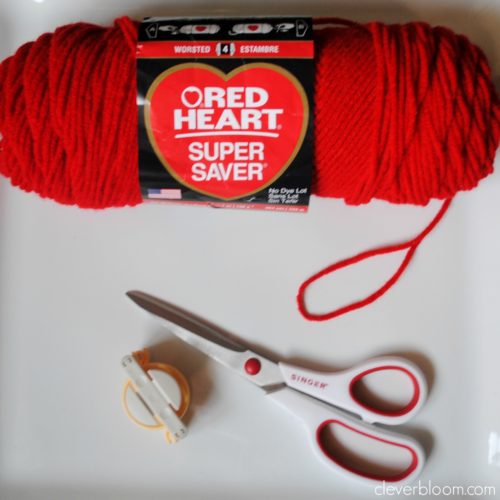 Each heart requires 3 pom poms.  I figured out the best ratio for each one.  You're welcome!  Like I mentioned before, it's really best to use your fingers.  Using a pom maker is fine for the top two pom poms but the bottom one really needs to be made with your fingers.  It just makes a better point at the bottom.
Make your first pom pom.  Use three fingers and wrap the yarn around them 60 times.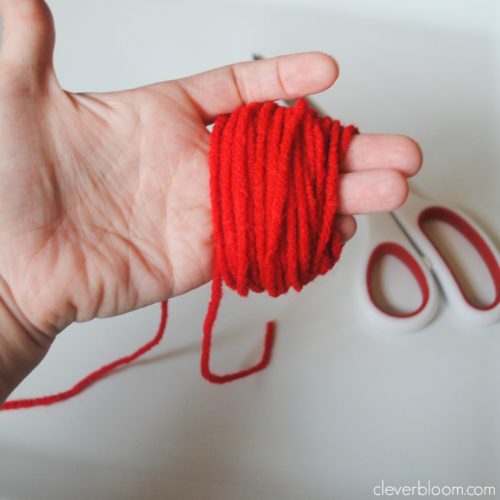 2.  Pull the wrapped yarn carefully off your fingers and tie another 10″ piece of yarn around in the middle and double knot it.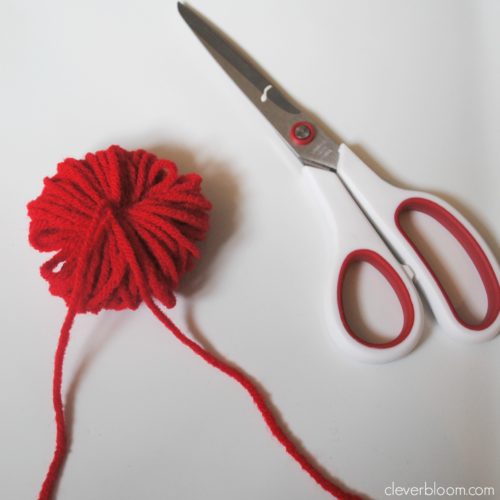 3.  Cut the loops of the pom pom.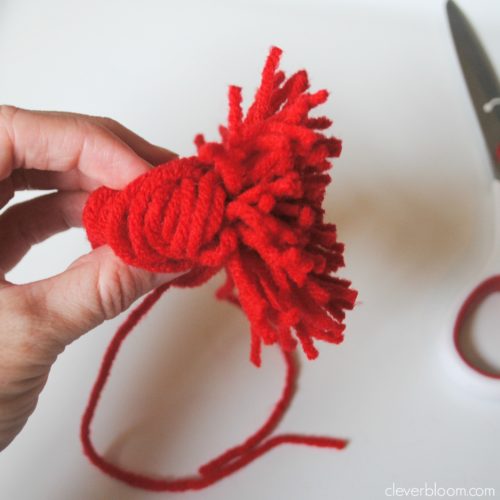 4.  Now shape the pom with your scissors into a half ball.  See picture.  It doesn't have to be perfect because you'll do more trimming later.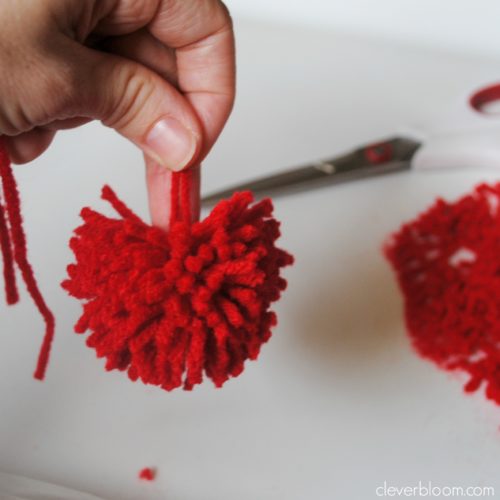 5.  Now do your second pom pom by repeating steps 1-4.  You'll need 2 exactly the same.
6.  Now do your third pom pom.  For this one wrap around three fingers 75 times.  it will look something like this when you cut the loops.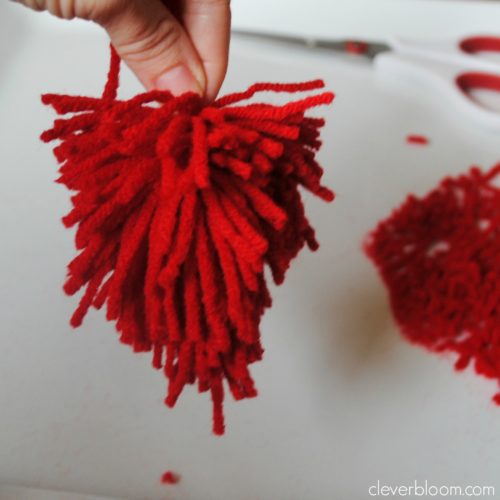 7.  Shape the pom pom into a cone shape.  It doesn't have to be perfect.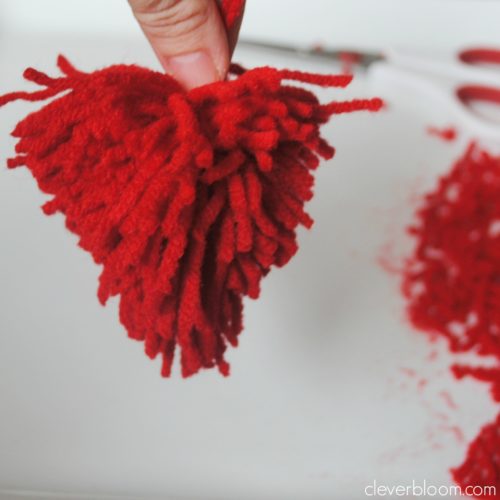 8.  Now you'll have two half ball shaped and one cone shaped pom poms.
9.  Tie one of the half ball shape to the cone shape using the long ties.  double knot it.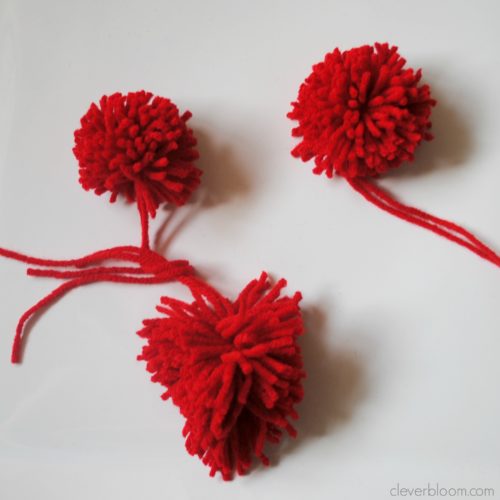 10.  Now tie the other one next to the first one.  It's hard to explain but they just fall into place.  You'll see!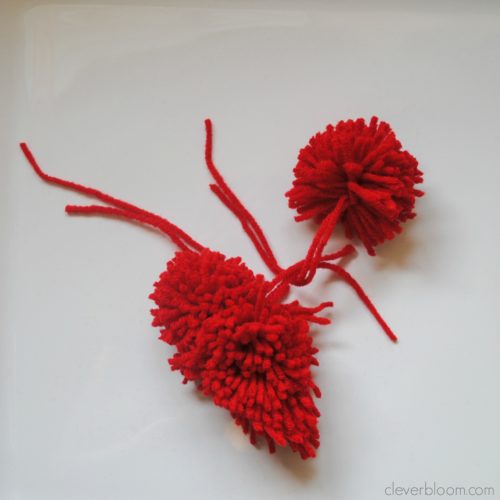 11.  Now you'll have something that looks like this.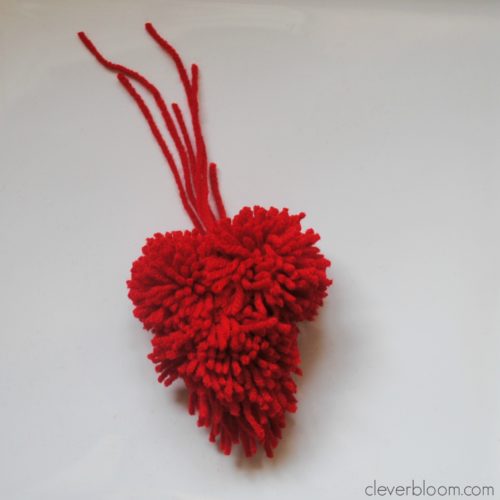 12.  Start trimming and shaping into a heart!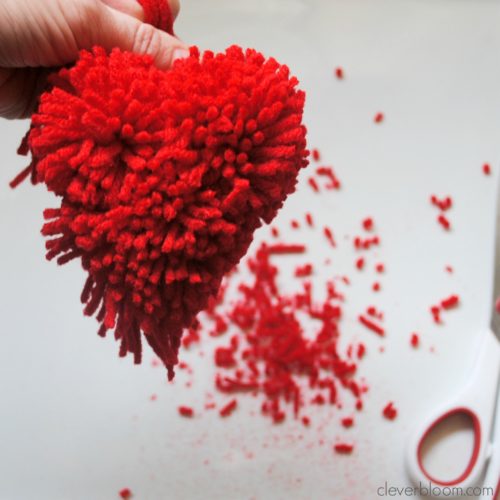 13.  Repeat all steps to make as many as your little heart desires.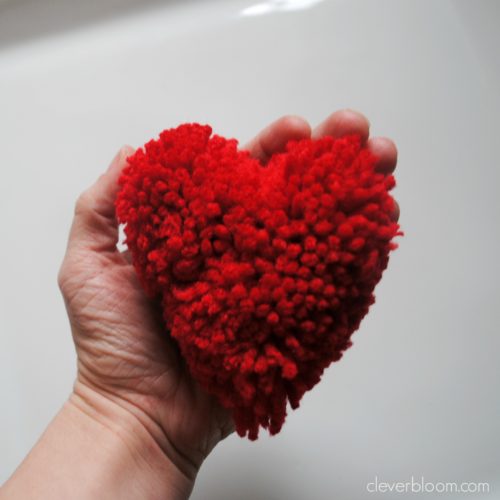 14.  Use the long ties (still attached to heart) to tie to your bunting yarn.  Hang first and the cut excess yarn.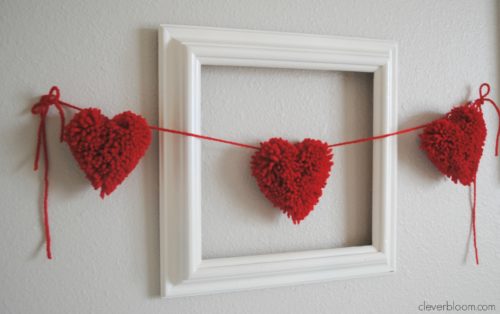 I just used thumb tacks to hang it.  I needed one on each side and one in the middle.  I tied a few loose bows around the thumb tacks to hide them.  I think this turned out so cute!  My husband laughed at it and I'm like, "Why are you laughing?!"  he said, "It's just funny that you actually got them to look like hearts".  I don't know what that means but I'll take it as a compliment!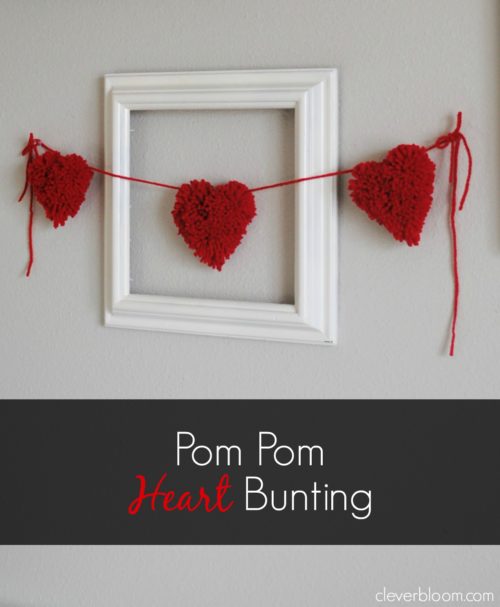 I hope you get the chance to make one of these.  And I hope you don't have Nirvana's Heart Shaped Box in your head the whole time like I did.  Anyway, they're so fun!  If you love it as much as I do, spread the love!  Pin the photo below to your favorite craft board on Pinterest.  Thank you for visiting today!  It's time for me to go.  There's a manhunt in my neighborhood and I can't stop looking out the window!  He's jumping fences and just my luck he would jump right over mine!  Ha!  Have a great day!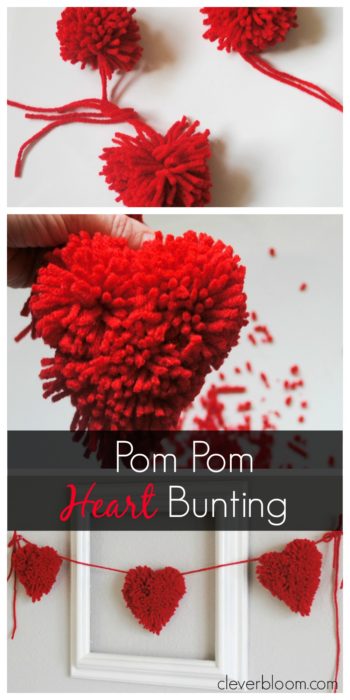 Do you love Pom Poms?  Check out these other DIY Pom Pom projects!  Just click the photos below.