This DIY Plant Hanger is a fun alternative to the typical plant hanger.  It's easy to make and looks great!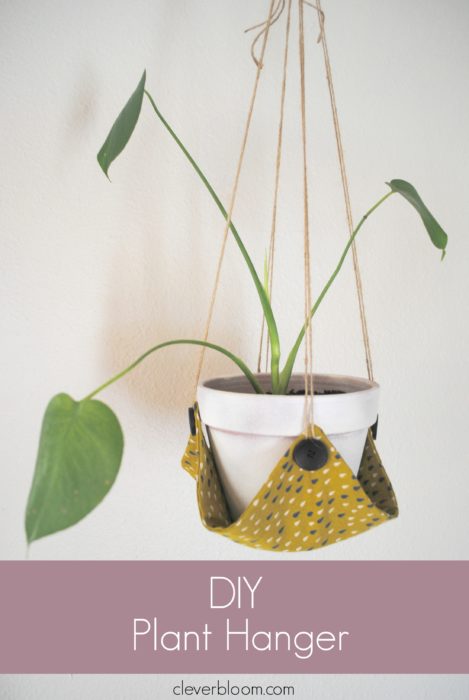 Hi guys!  Thanks for being here today!  Today is my 4 month blogiversary!  Although, it feels like a lot longer than that.  I'm having so much fun but it's a lot of information.  I mean, how can you ever know everything there is to know about blogging?!  AHHH!  Luckily I have my very own blogging dictionary, Amanda at A Crafted Passion.  She's amazing!  I'm sure I annoy the crap out of her with all my questions but I retain information a lot better when I hear it from someone rather than reading.  Plus, I figure I'll pay her back in coffee, jokes, and friendship?!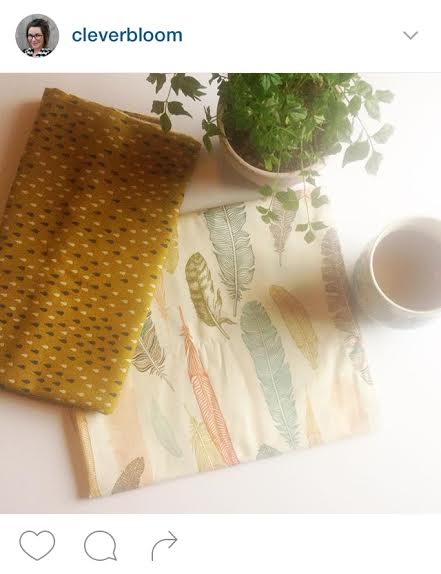 Last week on Instagram I posted this fabric that I got at the beach and asked my 86 followers (what?!  I'm new) what I should do with it?  One of my friends, Tara (click here to read her hilarious, risky, no shame take on life) suggested place mats and I really wanted to but I didn't have enough fabric.  Then Amber said "Something you would see often, too cute to be tucked away".  So, I present to you, "The Plant Hammock".  My friend Mary came up with that name.  Thanks Mary!  This DIY Plant Hanger is great because you can choose  your own fabric so it's super customizable to your style!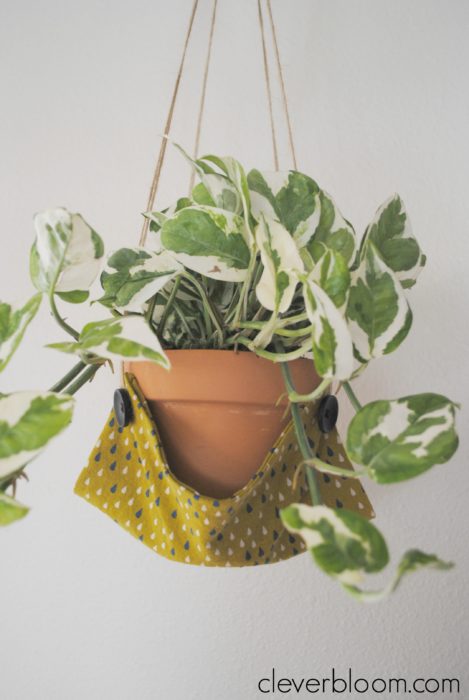 My love of plants started about 20 years ago.  I blame it on Billy.  I blame a lot of things in my life on Billy.  But honestly, I am who I am (mostly) because of her so it's mostly GOOD blame.  When we lived together we were young and had no money.  We would put our tips together, walk to Fred Meyer, and buy taquitos and plants.  Haha!  One day we saved up our tips, took the bus downtown and got matching tattoos.  I could have a whole separate blog for Erin+Billy stories but I don't think the world is ready for that yet.
If you're still reading, thank you!  I go off sometimes and it doesn't always make sense.  I'm crafty but I will never claim to be a writer.  Back to the subject…Let's get started on this DIY Plant Hanger.  I have to admit, I didn't fully think it through before I started so it took me a bit longer but if you follow the directions and have very basic sewing skills, you should be able to pull this off in about 30 minutes.  And, of course I didn't cut buttons off a perfectly good jacket for this project.  Who would do that?
---
You'll need:
-Jute
-Fabric (1/2 yard should be plenty)
-Plant in a pot
-Thread/Needle
-Sewing Machine
-Scissors
-Four buttons (medium to large is best)
-Iron
---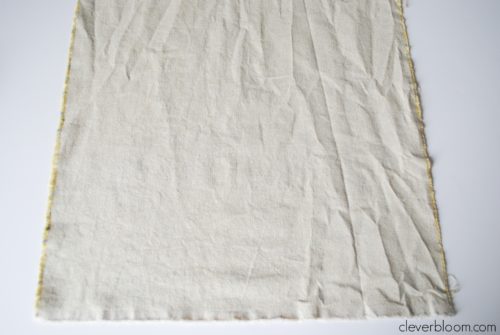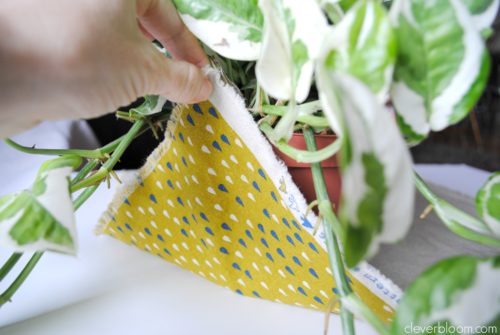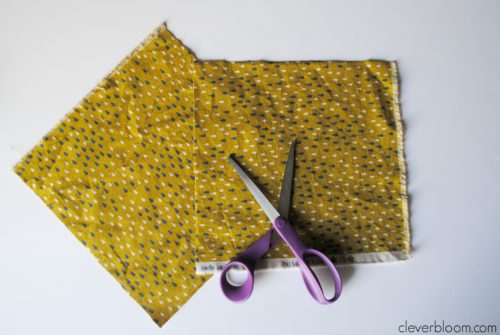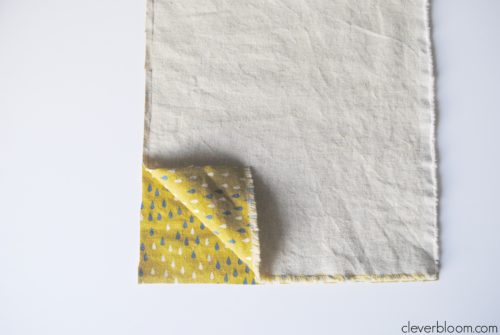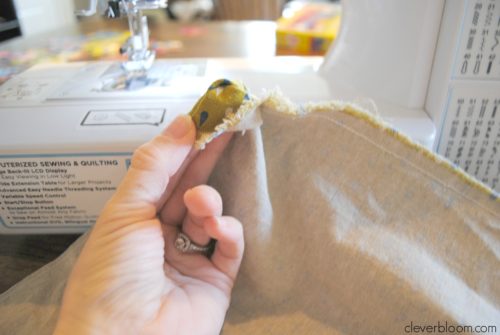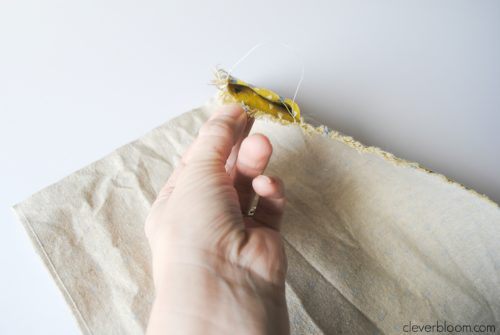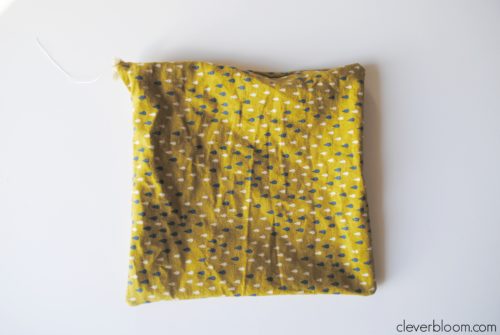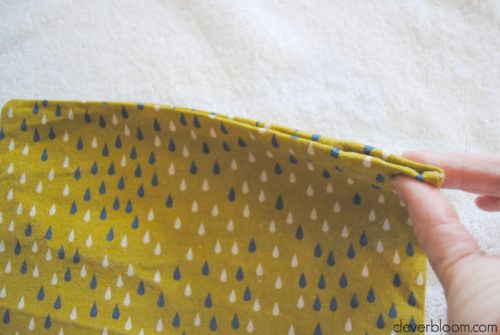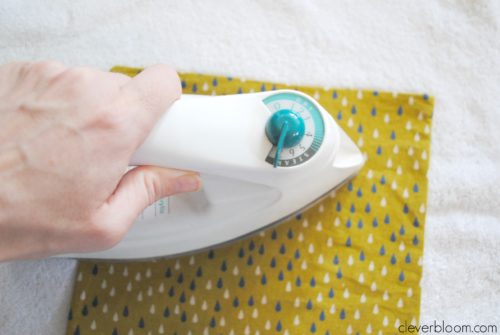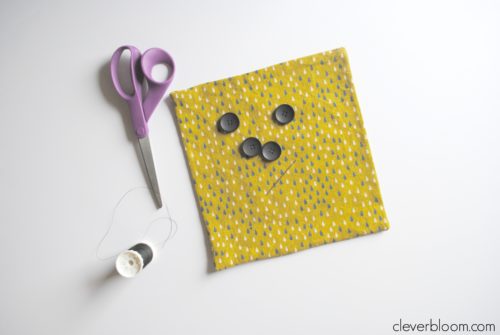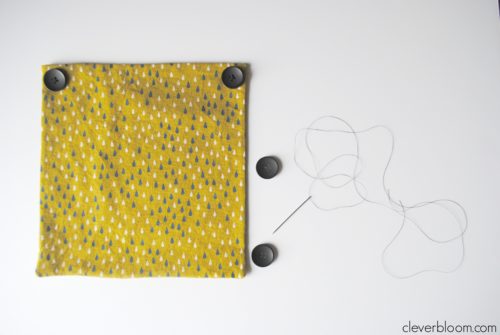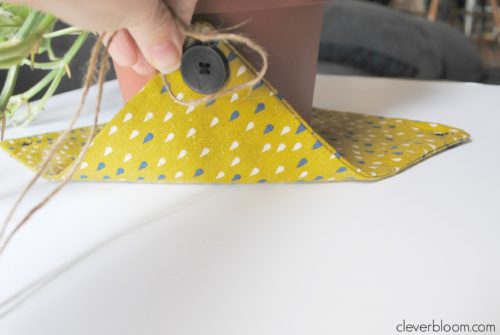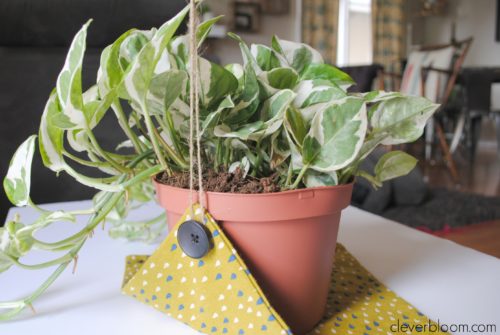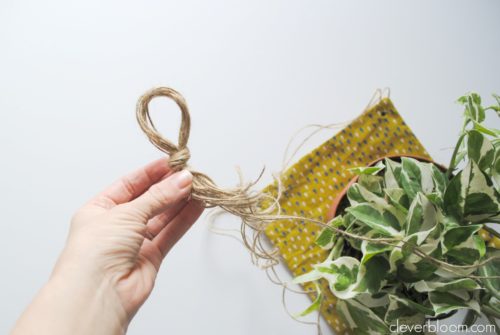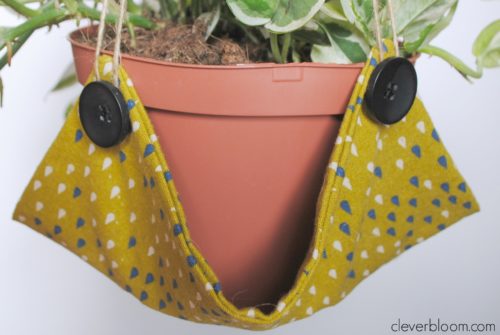 Iron your fabric and lay it right side down on your table.
Place the pot* you're using near the corner of your fabric.  Lift the corner of the fabric up over the pot.  You want the corner to hit about 1″-2″ above the pot.  Now do it to the opposite corner.  This should determine your square size.  It's not an exact science but it works!  See above photos.
Cut your square and then trace it on your fabric to make an additional square.  Two squares total.
Place your squares right sides together and sew aprox. 1/4″ seam around leaving about a 3″ opening.
Use the opening to pull the fabric right side out.
Flatten fabric with your hands and fold the raw edge around the hole down towards the inside.  See above photos.
Iron flat.
Take your buttons and sew one on each corner of your square.  Sew them on really well.  These will hold the weight of your pot.  See above photos.
Take your jute and decide how long you want your hanger to hang.  You'll cut 4 pieces. Each one will be double the length you want your hanger to hang.
Simply loop one piece around each button and gather all the jute together at the top.  See above photos.
Tie a loop at the top and you're done!  See above photos.
*Be careful to use a pot that isn't too heavy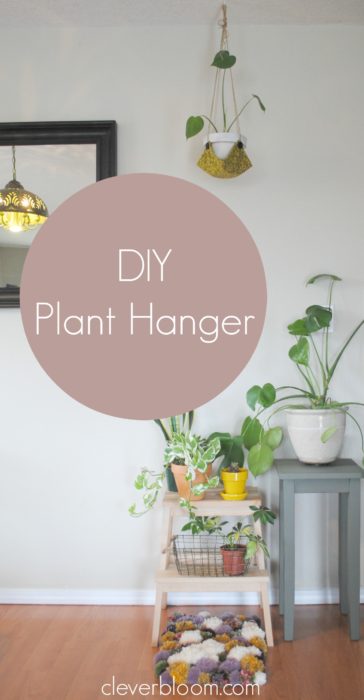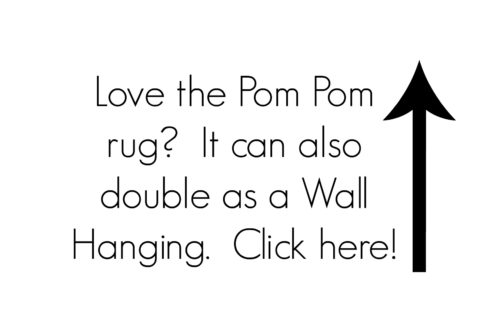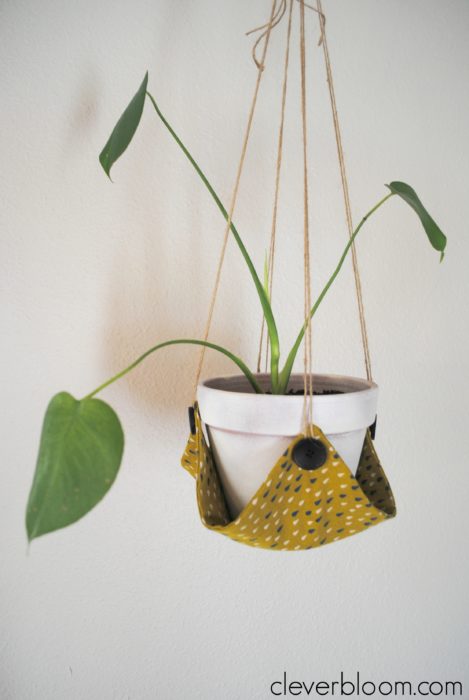 I love the way this turned out.  I can't wait to make a few more.  Hanging plants work a lot better around here because the baby is constantly pulling on leaves.  As if he doesn't eat enough already, I find him taking bites out of my plants.  Come on!  If you want a salad just ask!
Thank you so much for stopping by today.  I hope you get a chance to make one of these DIY Plant Hangers.  Pin the picture below so you have quick access to this tutorial.  Have a great day and we'll see you next time!