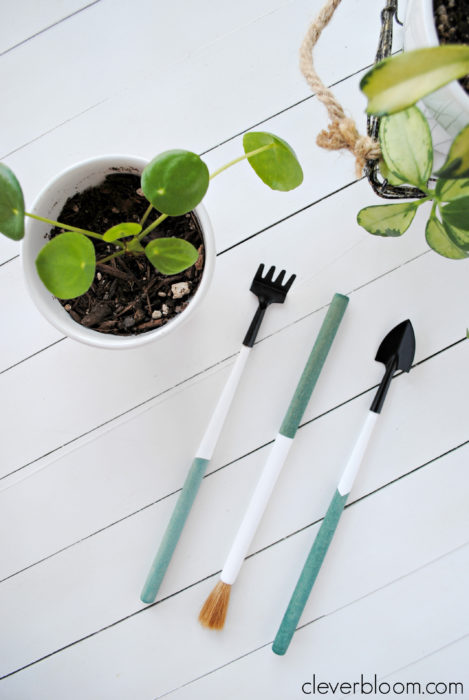 Plant lovers are an interesting breed.  Some may say "crazy".  Many of us are self proclaimed "Crazy Plant People".  So what do you get a plant lover for a gift?!  I'm going to tell you something right now, if you yourself are not a lover of plants, don't try to pick out a plant for a plant lover.  Don't waste your time!  It may not be their type or whatever.  Yes, we have types!  It's best to get them something to either accessorize with or something functional.
Today I'm going to show you how I made these super awesome DIY Dip Dyed Plant Tools.  They're functional AND you can accessorize any Instagram photo with these! I chose to do my favorite little terrarium tools but you can also do garden tools.  I don't do terrariums but the tools are small so I use them a lot for planting my cuttings and maintaining the soil.
*This post contains affiliate links for your convenience. For more information, see my disclosure policy here.

To get this look you'll need:
-Terrarium Tools (I used these ones)
-Rit Dye (I used this color and this color mixed)
-Sponge Brush
-White Acrylic Paint
-Clear Coat Paint
-Painters Tape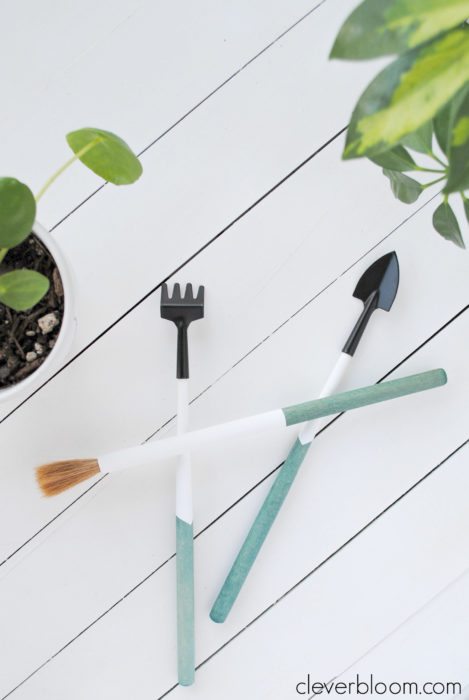 Find a container tall enough to hold your dye so you can leave the tools to soak for a bit.  I used a glass vase but you can use a water bottle, just cut off the top!  Now mix your dye in the container.  I used 3 total caps of dye and filled the rest with water.  One at a time put your tools in the dye and let sit.  I left each one in for around 20 minutes.  Since wood is porous the dye will leak.  Even if you tape it off you will have leak streaks.  But don't worry about that, that's why we paint over the line.  Let your tools dry at least a few hours but overnight is best.
Use your painters tape to tape off a line where you will paint.  Press firmly securing the tape.  Now use your foam brush to paint the wood the rest of the way down.  I needed about 4 coats to cover the top of the dyed area.  Once your paint is fully dried, remove the tape and apply 2 layers of clear coat.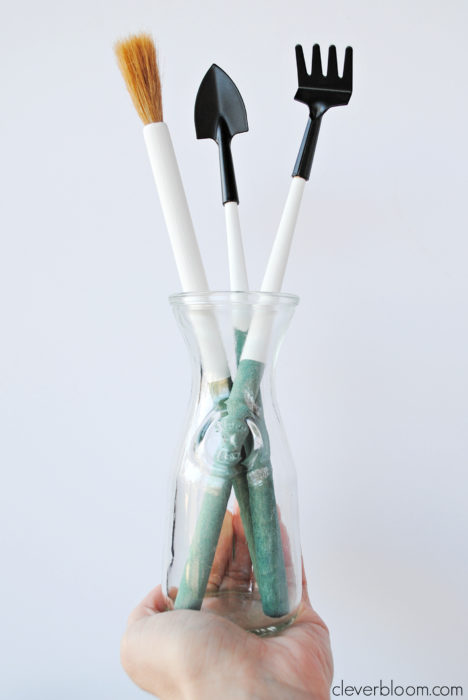 That's it!  How cute are these Dip Dyed Plant Tools?!  Now tie them up with a cute bow and send them on their way!  Your plant loving friend will adore these.  And you should really make a set for yourself too!
If you want to make a gift basket here's how:
Get a cute pot (to use as the basket), throw in some plant food, a plant hanger and your DIY Dip Dyed Plant Tools.  Fill the empty space with tissue paper or crinkle paper and Viola!
Thanks for visiting today!  See you next time!