You can use Tiny Pom Pom Party Bunting for just about anything!  Make it into a cake topper, a party necklace, decorate a package, or hang it on the wall.  The possibilities are endless!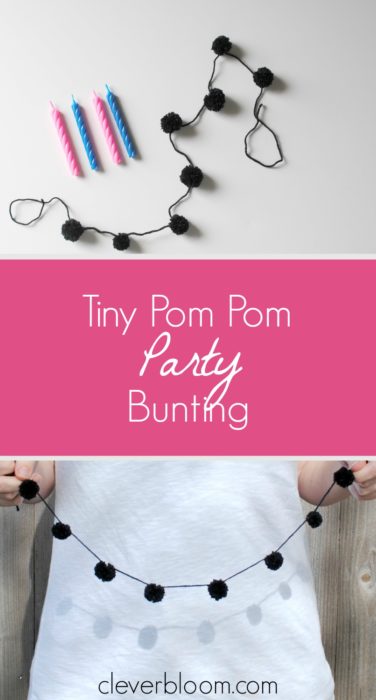 Hey!  Thanks for being here today.  This Tiny Pom Pom Party Bunting is so simple, so cute, and well…it's just awesome.  If you know me at all, you know I love pom poms.  I've shared quite a few of my pom pom projects with you and I just never get sick of making them.  The story behind this one is kind of funny.  My friend "Cool Jamie" that's what we call her, moved to L.A. last year.  She makes fun of me for making pom poms all the time.  Which she totally should because we used to "Get Crunk" (I think that's what you call it these days) all the time and then I quit drinking, got married, had kids, and now I make pom poms.  Every time I talk to her she's like "Hello?!  What are you doing?  Making Pom Poms?"  Very funny Cool Jamie, very funny!  But the truth is, I think Cool Jamie needs pom poms in HER life!  So I decided to make this Tiny Pom Pom Party Bunting for Cool Jamie.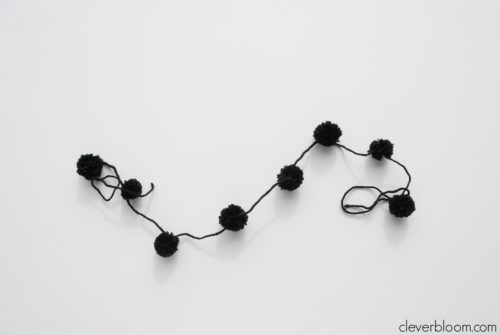 They're perfect for any occasion and you should make one too!
You'll need:
-Yarn (I used sock weight yarn because it's much thinner than regular yarn)
-Sharp scissors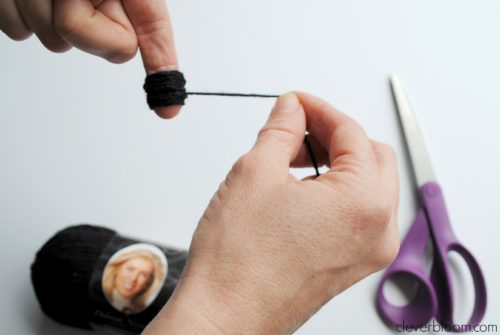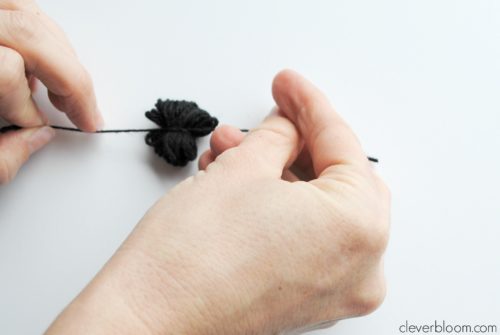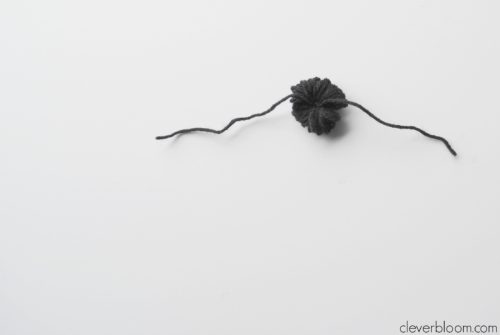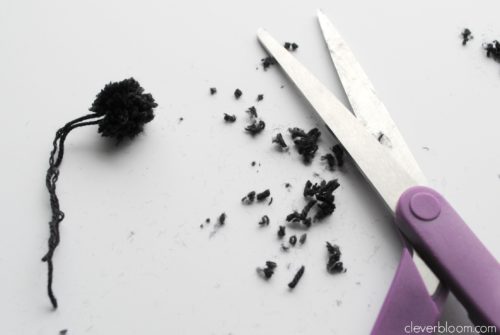 Let's get started!
 Cut a 5″ piece of yarn and set aside.
Wrap another piece of yarn around one finger.  I did my fore finger 35 times.
Cut string from spool.
Carefully pull wrapped yarn from your finger.  Holding it together place in the middle of your 5″ piece of yarn and secure by double knotting.
Cut the loops and trim your pom pom.  Keeping the long tails.
Use the long tails to tie your pom poms to another piece of yarn.  Once you have them all in place you can cut the tails.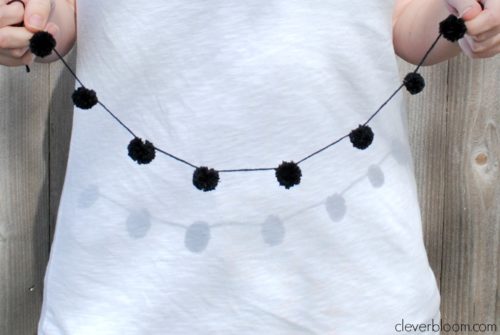 I have a confession to make.  I normally don't do any Photoshopping of my pictures besides some brightening and cropping but this time I had to.  My baby is obsessed with those Halo Oranges and we go through about two 5 lb bags per week!  I'm not kidding, that's 10 lbs!  Anyway, after taking these pictures I realized that my thumbs are basically dyed orange.  How embarrassing!  So I had to use the teeth whitening tool on my thumb nails.  Haha!!!  If you look really closely, you can still tell in a few of the pictures.
Okay, okay, that was super easy right?!  If you want to turn it into a cake banner you can visit my Washi Tape Cake Banner post here and use the same method but use this bunting instead of washi tape.  You can turn it into a party necklace by just tying the ends together.  Or hang it on the wall above your desert table.  What will you do with your Tiny Pom Pom Party Bunting?  What do you think Cool Jamie will do with hers?  Once I find out, I'll update you guys.
As always, thank you so much for visiting my little blog.  Pin the picture below to your favorite party board on Pinterest for quick access to these instructions.  You can also check out two of my favorite pom pom projects in the TOP 5 section of your sidebar.  Have a great day!  See you next time.