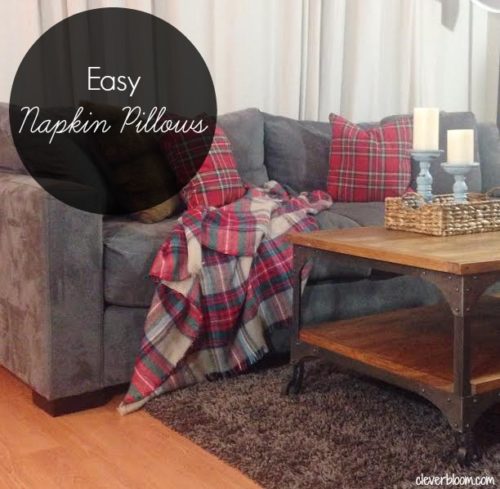 For some reason, I'm really into plaid this year.  There's something SO Christmas-y about it.  I love how you can mix different plaid patterns too!  I went shopping because I really wanted some holiday toss pillows.  I saw this really cute plaid pillow but it was $34.  Wait…what?!  Why is one pillow $34?  Is it stuffed with gold?  Directly under the pillows were the corresponding table linens. They were on sale, but the pillows weren't (of course).  The two pack of cloth napkins was on sale for $1.98.  So, I bought two packs and I was on my way.
I love making pillows out of napkins because they're already perfectly cut for you!  No cutting fabric!  I got a bag of filler at the fabric store (with a coupon).  One bag would stuff like four pillows.  Total cost for a single pillow was about $4!!  That was a $30 savings for me.
You'll need:
– 2 napkins
-thread
-sewing machine
-stuffing
-pins
-sewing needle
 Put the two right sides together and pin to secure.
Sew around the edges.  The edges are most likely hemmed so I just sew right at the inner edge of the hem.
Leave about a 3″-4″ opening.
Turn pillow case right side out.
Stuff it!  I used to be a "full pillow" person but this time I did less stuffing and I really like the way it turned out.
Do a blind stitch to close it up.  Here's an easy tutorial.
You're done!
I think they turned out great!  You could also do a different pattern on the front than the back so they're reversible!  Pillows are a great way to change the look of your room without doing anything permanent.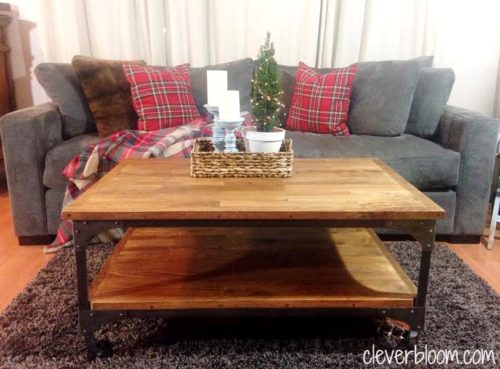 I hope I inspired you to add a little pop of color in your home today.  Thanks for visiting!  Pin the photo below to your favorite DIY board on Pinterest for easy access and visit my Pinterest Craft/DIY board.  You'll find lot's of other projects to inspire you!