This DIY Glitter Stationary will totally make someone's day!  Perfect for Christmas, weddings, Birthdays, and more!  It's so easy, there's no excuse not to make it!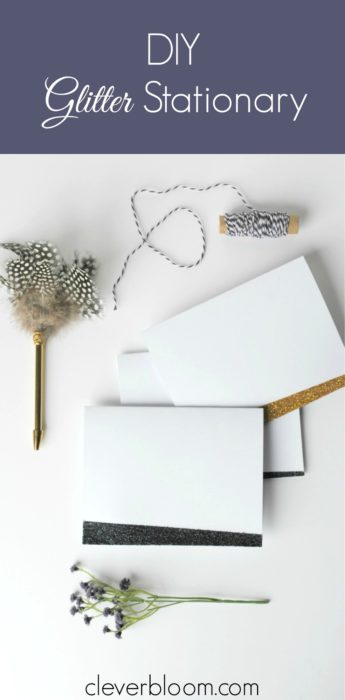 Hey guys!  Thanks for visiting today.  I love sending cards to people!  When the holidays arrive and I get to send Christmas cards, it makes me so happy!!  I love sending cards for no reason too.  It's so fun to see that one piece of mail in the pile of junk that's handwritten… you KNOW it's special.  Today I'm sharing this quick tutorial.  DIY Glitter Stationary.  I swear glitter just puts a smile on my face.  Who wouldn't want to get this card in the mail?!  It's simple but has so much pizazz!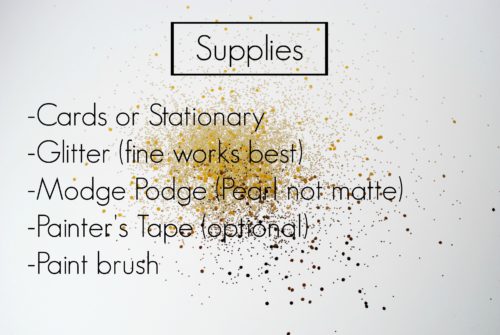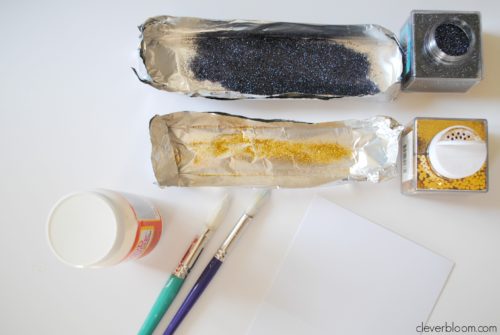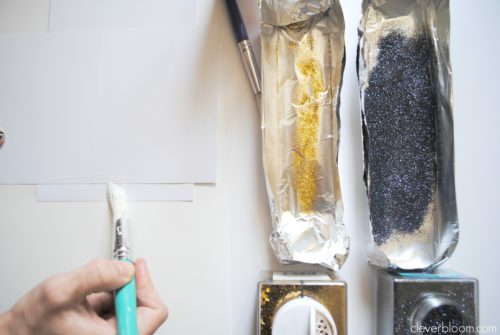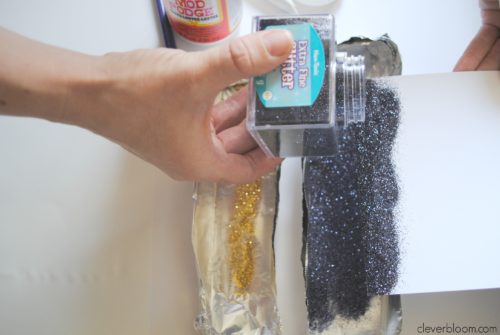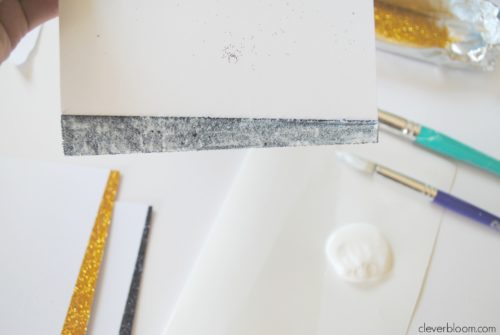 Place a straight edge or painter's tape (test it before to make sure it doesn't stick to your stationary) on your stationary towards the bottom.  I did an angle about 1/2″ from the bottom.
Use your brush to brush on a good layer of modge podge.  Not too thick but enough for the glitter to really stick.
Immediately sprinkle the glitter on.  Shake off and let dry completely (maybe 15-20 min.)  If you use painter's tape only peel it off after the glitter dries.
Now paint one more thin layer of modge podge over the top.  This will hold the glitter in place.  This is where it's important you use the pearl finish and not the matte.  You don't want your glitter to lose it's shine!
Let dry completely an you're done!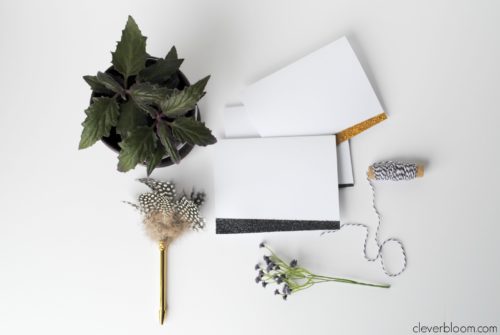 Can you think of anyone who could really use a pick-me-up?!  Send them a card!  Just let them know you're thinking about them.  You don't have to say much but TRUST ME, it will really make them feel good!  Stick a comic or something in there to make them laugh.  If you have a printer, it's fun to look up memes from your favorite TV show or movie and print them out.
If you like glitter projects you should check out my DIY Gold Glitter Mason Jars.  I also have a really cool Dip Dyed Stationary tutorial too!  Thanks for being here today.  Have a great day and we'll see you next time!