---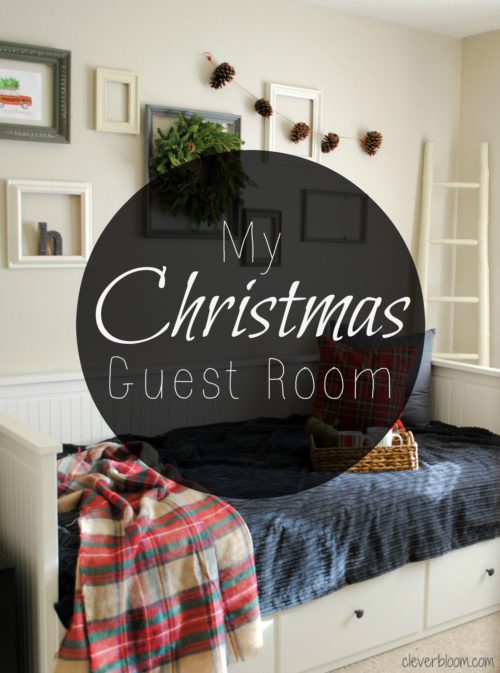 Hello!!  I'm glad you're here.  Today I'm sharing My Christmas Guest Room.  Most of the time it's the kids TV/play room, but for about one week out of the year, it serves as a guest room.  My mother in law lives in Arizona and stays with us about four days in the summer and four days during Christmas.  Actually, this is the first Christmas she'll be with us.  I'm really excited to have her and I know the kids are too.
Okay, I'm not going to lie.  This post was actually going to be a "Home Tour" type post but I just couldn't get my act together.  If you haven't seen our tree yet, you can see My Eclectic Neutral Tree here.  Otherwise, the rest of our house is off limits.  Ha!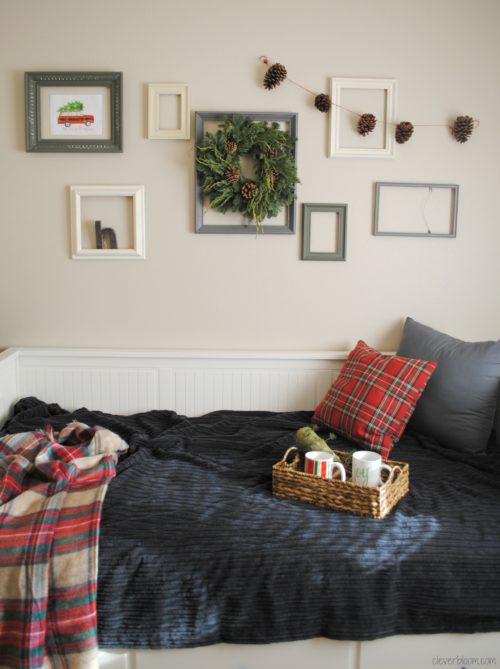 Welcome to our guest room!  I just love how the sun billows into this place.  Even on a day like today when it's 40 degrees.  I prefer to spend my time in here because the rest of the house is so dark.
One of the first things you'll notice is the super cute pinecone bunting.  It's a DIY I whipped up in about two minutes.  It's just string and pinecones and you're done.  SO CUTE!  The wreath is a real one I picked up at the farm where we got our Christmas tree.  It's perfectly made and was only $15.  Yay!  If you haven't heard of Lucy at Craftberry Bush, she paints these beautiful watercolor calendars and free printables.  I printed this awesome red wagon with tree on top.  Printables are a fun way to switch things up for the seasons and you can find them for free most of the time.  Bonus!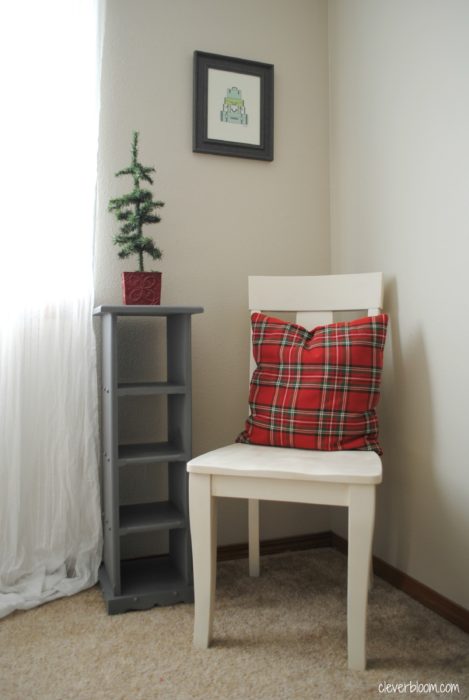 This little corner is just super simple.  The tree is from World Market like a hundred years ago and the Plaid Pillows were a DIY you can find here.  My friend Amanda from Ohio texted me the other day and said "Is it normal to want to spray paint things in your house to go with your décor"?  Hahaha!  It's a sad truth.  This small book shelf that I picked up at the Salvation Army years ago has been painted like five times, at least!  The chair is an old dining chair that used to be red.  I recently painted it "Vintage Linen" from Behr.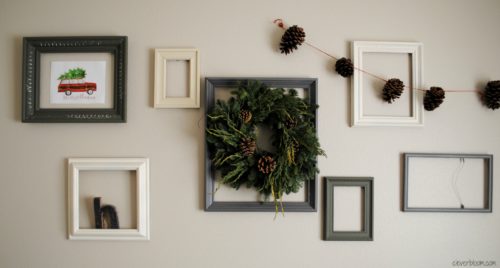 Back to the wall!  All the frames are Goodwill finds that I painted four different colors.  It's just fun to be able to change the things on the inside or leave them empty, whatever.  I'll keep it like this until the new year then I'll switch it up again.  Hmm…what should I do then?! Okay okay, I know I already talked about it but that pinecone bunting is too much cuteness.  Is it not?!  I love the way this little room turned out.  Don't you want to come stay with us now?  The only thing not pictured are my little ankle biters.  Trust me, if you do stay with us, they'll be all over you.  Oh, and in true Harding House fashion, the bed is loosely made.  I wouldn't want you all to think beds are actually made around here!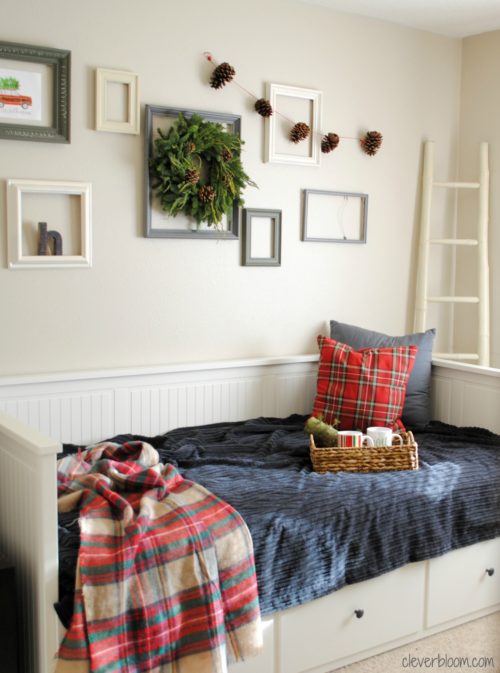 Thank you for joining me today!  I hope you like our little guest room.  Just incase you were wondering, it does smell like Christmas in there too.  It's time for me to go, my husband just informed me that we're getting Candy Cane Oreo Blizzards tonight.  And that's why I love him, reason #9825.  See you next time!