Do you need to re-pot your houseplants but not sure how?  This post will answer the questions you need to know before re-potting!  Pictures and step-by-step directions will help you learn How to Re-Pot a Houseplant.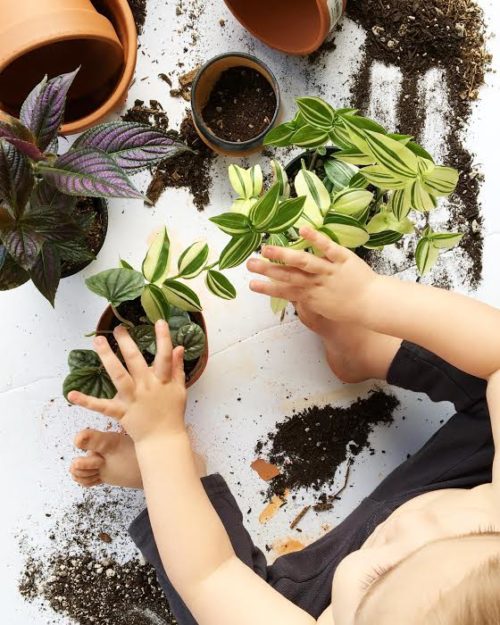 It's Spring!  And time to start re-potting those houseplants.  Most plants are dormant in the winter so you usually just want to leave them in the pot they're in until spring.  Re-potting seems so basic for some people but a lot of you are just starting out on your houseplant journey and don't know what the heck you're doing.  Right?!  Today I'm going to show you how to re-pot a house plant.  I should be clear about something.  Succulents and some types of house plants can differ in the way you re-pot them.  Some need additional steps but this is what I have found to work for me and my plants.
My best resources are  local nurseries.  For you local folks, in the Beaverton/Portland area, my favorites are Farmington Gardens, Cornell Farms, and The Portland nursery (2 locations).  There are others like Al's Garden Center and Bobz on TV Hwy that are good too! (Bob is only there seasonally).  I'm the customer who most of the employees try to ignore.  Ha!  I'm always asking questions like, "Is this the right soil?", "How fast will it grow?", "Am I being annoying?!".  I swear they're like, "There's the nerdy plant lady with the big glasses and messy hair…RUN!" Hahaha!  The thing is, we all live in different climates and your local nursery should be familiar with the best way to care for plants in your area.  The information below is a compilation of all the best tips I've received along the way.
How do I know when it's time?
In general, plants will exhibit signs.  If you see root exposed on the top of the soil or growing out the drainage hole, it's time!  You can also hold the plant on it's side and gently pull the plant out.  If the roots are all coiled up and the whole thing comes out of the pot easily, it's time!  One other way is if you notice the plant hasn't grown in a while, it might be time.