Join me for a Vintage Chair Makeover!  Learn how to makeover a vintage chair with minimal work.  A little paint can add a lot of character!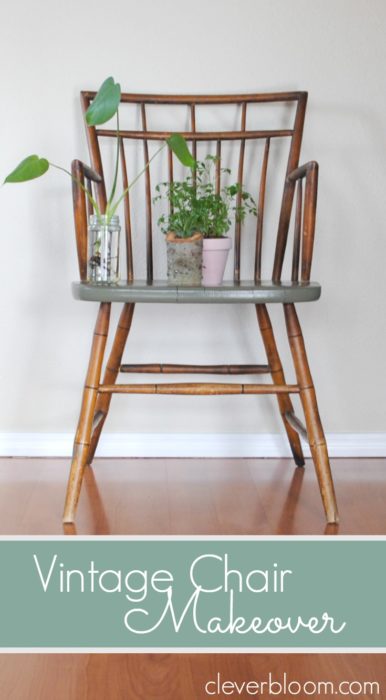 We've been in our house for almost two years now.  I can't even count the amount of times we've rearranged the furniture.  I mean, we're talking more times than I've seen all the Friends episodes…and that's A LOT!  The reason is mainly because the living room opens into our dining room and it's a small space.  I really want to create a look with two separate areas.  Anyway, we finally settled on a perfect spot for our furniture.  I was thrilled!  Just one thing was missing, a second accent chair.  You can't just have one chair facing the couch, you have to have two!
I looked around a little at some of my favorite stores but just couldn't think about spending that much money right now.  In fact, I couldn't spend more than like $20.  Craigslist, here I come!  Craigslist cracks me up!  People try to sell the funniest stuff.  I mean, come on people, nobody wants that!!  Anyway, I looked for about a week and finally found this Colonial style chair for $15 and it was only 5 miles away which was a major bonus.