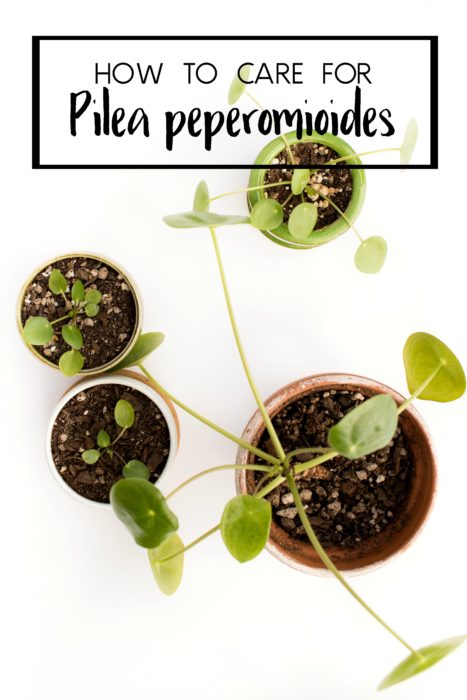 Thanks for visiting Clever Bloom!!  I have a guest with me today and I love her so you will too.  Her love for plants and everything botanical is how I "met" her on Instagram.  She is going to cover all your Pilea Peperomioides basis because let's face it, this is not the plant you want to accidentally kill.  I'll let her introduce herself.  Take it away Morgan!
Hi, I'm Morgan. You may or may not know me as @plantingpink on Instagram (if not, get on that!).  I love connecting with other plant-loving folks.  If you're crazy about houseplants or botany, there's a #plantgang on IG just waiting to love pics of your ferns, monsteras, and fiddle leaf figs.
I live in Tampa, FL and I grow all kinds of green things both indoors and out. I'm partial to fancy and unique foliage but I'll try to grow just about anything and learn as I go. That's exactly what I did when I acquired a "Pass it on" plant (aka Pilea Pepeomioides). And that's the plant I'm here to talk about today! I met @cleverbloom through our mutual love of the Pilea and so here we are now with a fun little collab. Thanks Erin for sharing your space!
Pilea Peperomioides (or as my husband calls it, Pilea Pepperoni) has become the houseplant on everyone's wish list. I was lucky enough to get one before they became the rarest and most sought after houseplant in the US and have been able to successfully send off some of its daughter plants across the country to begin their own little pilea families.
It's a wonder to me how this plant which is so quick and easy to propagate has become virtually impossible to acquire for those who want to own one. I'm glad to see US-based owners start to share their cuttings and I truly hope a nursery here catches up to demand and is able to fulfill the needs of the masses!  In the meantime, those looking for care tips can read on. I'll cover what has worked best for my plants as far as container, water,   fertilization, sun, soil, pest control and propagation.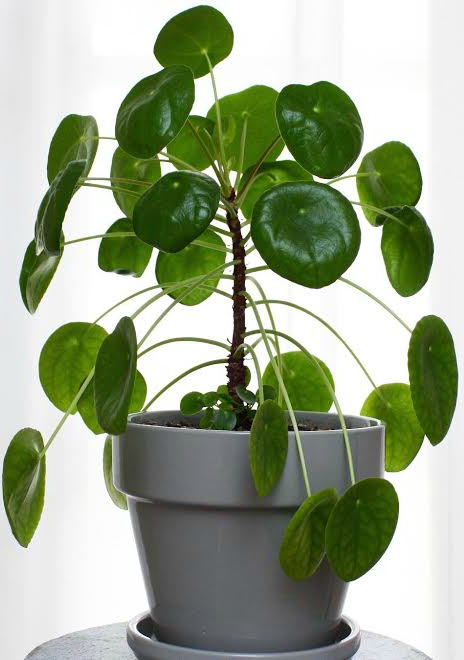 CONTAINERS
I currently have three separate potted plants. One is in glazed ceramic, one is in a clay pot and one is in a plastic pot. All three pots have drainage holes at the bottom.
WATER
I water each plant about once a week based on the conditions in my house and the condition of the soil.  However, Tampa, FL is a very sunny place and the room is pretty warm.  We keep our house around 77 degrees which in turn dries the soil of all my plants rather quickly. I typically dress the top of my plants with aquarium rocks but because Pilea Peperomioides loves to poke babies up out of the dirt, I keep it clear so I can see what's happening.  All that is to say, watch your soil.  Like most plants, don't let Pilea Pepeomioides sit in wet soil but also don't let it dry out completely either.  I've found that the leaves will start to look a tad droopy and that's the day I water.
SUNLIGHT
All three enjoy a very large south facing window but no direct sunlight.  Because P. Peperomioides is so responsive to the sun and such a fast grower, it has a tendency to send all its leaves in one direction.  I've found I need to rotate the plant 2-3 times a week to avoid a slanted stem.  Eventually I think I'll need to stake my largest plant because it grows so quickly. Just in the past month it has put out 5 new leaves. It didn't grow as quickly in the winter so this may be its yearly growth spurt.
SOIL
This post may have affiliate links for your convenience.
For soil, I use MiracleGro with some orchid bark mixed in for added texture and aeration. For all my houseplants, P. Peperomioides included, I mix the recommended amount of Bonide Systemic House Plant Insect Control into the soil. When I first moved to Florida in July, 2015 my houseplants somehow acquired fungus gnats. I used yellow sticky traps to catch the adult flies and started using the Bonide product. I can now happily report that we are gnat free!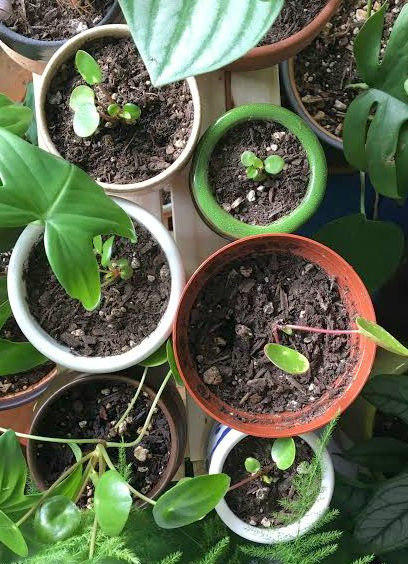 PROPAGATION
Propagating these plants is very simple. When I acquired my "mama" plant, it already had some "babies" peeking up through the soil. I cut each plantlet from the mother plant with a clean, sharp knife. They can either go into water to start root development or straight into moist soil.  I've found the soil method to be quicker and easier so I no longer take the step to root the plantlets in water. After about 4-6 weeks, they are anchored in their soil and will begin to sprout new leaves of their own.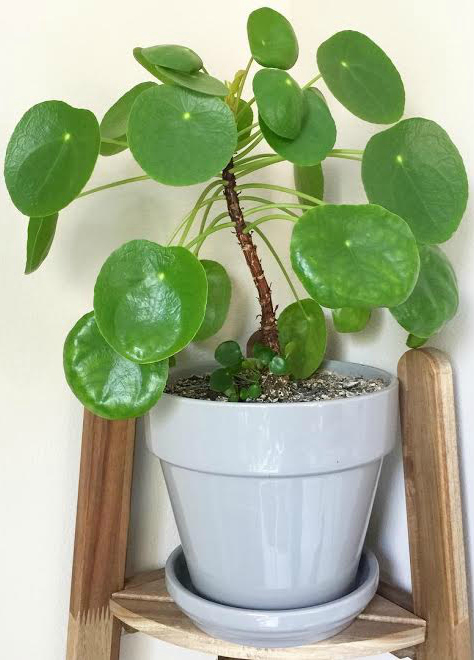 They really are a uniquely beautiful houseplant and I'm sure their rarity has added to their allure. But my favorite part about them is their ease of care and rapid propagation. Now that there are plants growing and flourishing in the US, hopefully the plant can live up to its "pass it on" legend and spread among plant loving friends.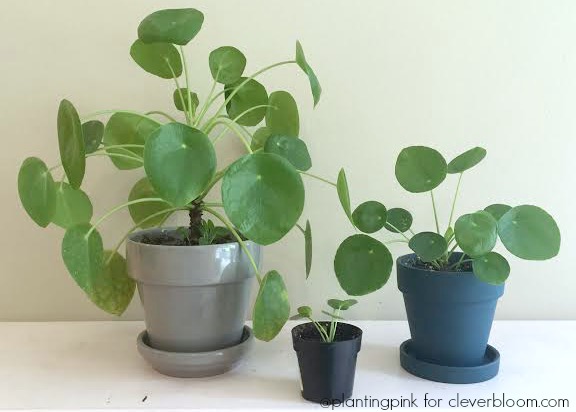 Thank you SO MUCH Morgan!  If you have any questions about how to care for your Pilea Peperomioides leave a comment and we'll be sure to get back to you.  I hope this was good information for you.  I know it was for me!  I'm the proud new owner of one of Morgan's baby Pileas and I need all the help I can get.  Haha!  After the journey I've been through to get one, I really don't want to kill it.  Don't forget to follow both @plantingpink (Morgan) and @cleverbloom on Instagram for updates on these amazing plants.  Have a great day and we'll see you next time!
I've added some links below of supplies I use with my Pileas.  See my disclosure policy here.