Dye eggs the natural way by using fruits or vegetables.  Today I'm teaching you how to make blueberry dyed eggs.  They're beautiful with their subtle color and natural occurring designs!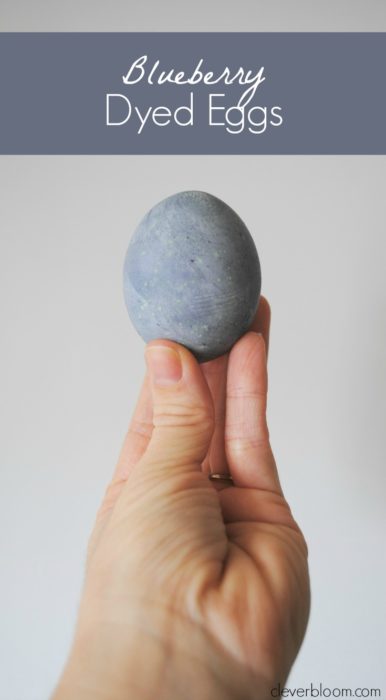 For those of you who know me well, you know I hate making dinner.  I don't know why it's such a big deal but after a long day with the kids, it's the last thing I want to do.  I feel bad for my husband though because I make the same stuff all the time.  It was time for me to try a new dish!  For this dish, I had to cut up potatoes and try to squeeze out as much water as I could.  I used this white flour sack towel and after doing the squeezing, the towel had a giant brown stain on it.  It wouldn't come out in the wash at all!  I remember thinking, it was too bad it wasn't a prettier color like blue or purple.  It might have looked like tie-dye.  So, this year when I decided to try different ways of dying eggs, I remembered the potato stain.  Ha!  But this time I was going to try something with a prettier color.  I decided to use blueberries and the eggs are beautiful!  Stick around and learn how to make these Blueberry Dyed Eggs.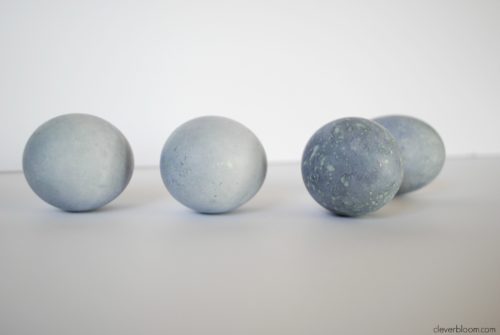 You'll need:
-Hard Boiled Eggs
-2 cups of water
-1 1/4 cup of Blueberries ( I used frozen)
-1 tsp salt
-1 tbsp. white vinegar
-Towel (it will get stained)
-Strainer or cheese cloth
-Bowl or cup to dip eggs
-Spoon for grabbing eggs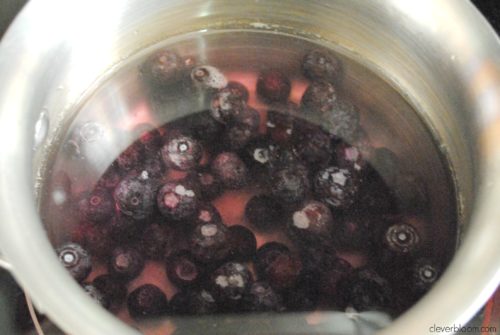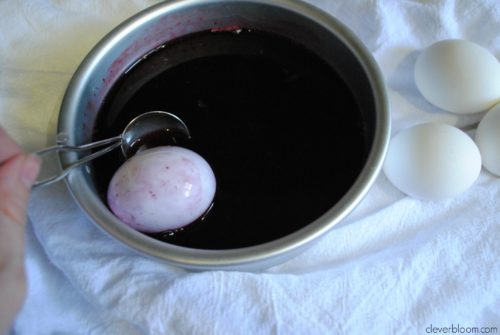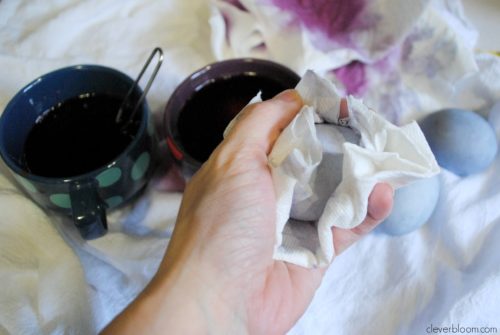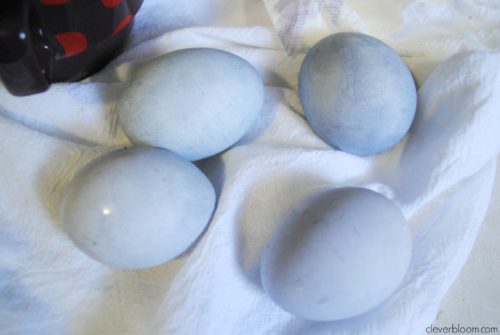 Let's get started!
 In a small saucepan place your blueberries, water, and salt.  Bring to a boil.  Boil for aprox. 10 min.
Strain the berries and keep the liquid.  Let cool.
Once the liquid has cooled add the vinegar.
Poor liquid into a bowl or cup.  It needs to be big enough for an egg to fit but not too big where the fluid won't cover. (I made that mistake)
Place your egg into liquid and leave for desired time.  I did them between 5-20 min.
Pull egg out with spoon and gently place in towel. (You'll see I used a paper towel.  Don't use one unless you have to, it will leave paper towel impressions on the egg a bit) Dab it dry.  Don't wipe it dry!
Let the dyed eggs sit for about an hour before handling them too much.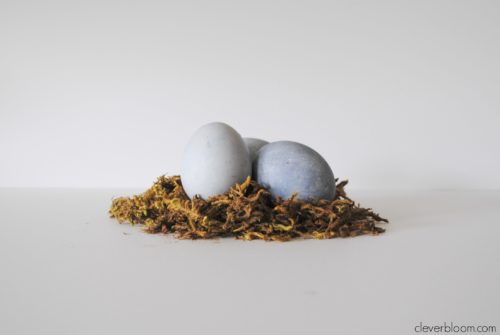 That's it!  Each one of my eggs did different things.  That was the best part of doing blueberry dyed eggs.  I left the darkest one in for about 20 minutes.  At some point, once it was dried, the egg started sweating and it made these almost turquoise colored speckles.  It was so cool!  The ones that were left in for 5 minutes just made this super pretty powder blue color.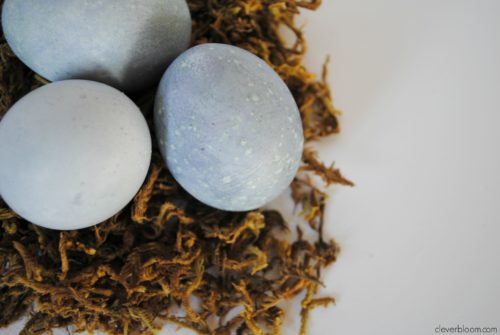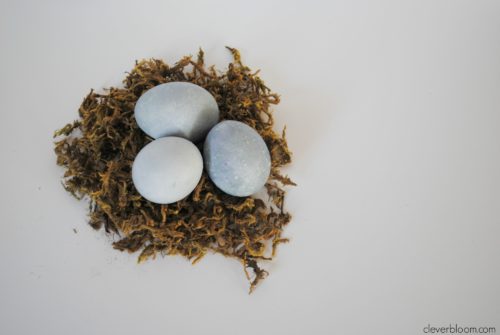 On my Pinterest Easter Inspiration Board I pinned an article from Better Homes and Gardens.  It's All-Natural Easter Egg Dye Recipes.  They have other color options that are also beautiful.  I'm embarrassed to say that I didn't really have any other fruits or vegetables laying around that were dye worthy.  I don't think banana or cauliflower eggs would have turned out as well.  Ha!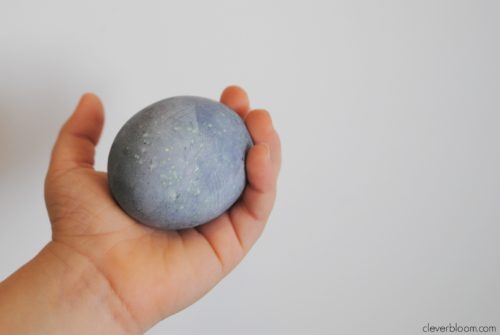 How sweet is this little hand?!  Big O was so excited to get his hands on these eggs.  He kept saying "It's time for egging mommy?"  Haha!  Little does he know that "egging" will mean something totally different when he's in hi school.  My poor parents had to scrape eggs off the garage door a few times.  But don't worry, I got those eggers back!
Thank you so much for joining me today.  I'm glad I was able to teach you how to take plain old white eggs and turn them into something beautiful!  Pin the picture below to your Easter board on Pinterest for quick access to this post when you're ready.  Have a great day!