This Anthropologie Inspired Wool Pom Pom Wreath is beautiful.  It adds the perfect amount of cozy to your house!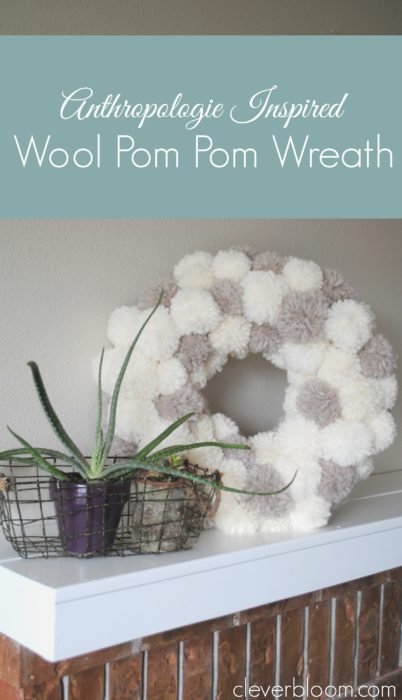 Hello!  Thanks for visiting Clever Bloom today.  My favorite thing to do at night, when everyone else is sleeping, is cruise Anothropologie's website.  There are so many beautiful things I want so badly.  Why is it so expensive though?!  Last year I saw this wreath that I fell in love with because it was made out of pom poms.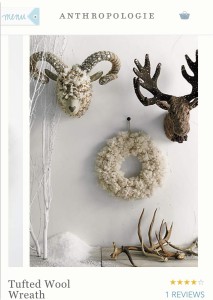 It was so awesome and I had to have it…until I saw the price tag.  Over a hundred dollars?  What?!  I just couldn't do it.  That's like three boxes of diapers.  So, I did what I had to do.  I made it.
I switched it up a bit by using two different colors.  I thought it would be more versitile.  It turned out just as beautiful as the Anthropologie one.  Below is a quick tuturial.  You really need this wreath in your life.  The holidays are right around the corner!!
You will need:
-6 spools of wool yarn (I used Patons-Classic Wool.  Four spools of 77008 Aran and two spools of 77010 Natural)
-Sharp scissors
-Straw wreath form.  Don't take the plastic off. (I used 14″)
-Hot glue gun/glue sticks
-Pom pom maker or a wire coat hanger
If you don't have a pom pom maker (like me) you'll have to get creative.  You need two points in which to wrap your yarn around.  You can look on Pintrest and fine some make-shift pom pom makers.  You can also use your fingers if you want.  I bent a metal coat hanger into a two prong pitch fork shape and made mine that way..
Let's get started!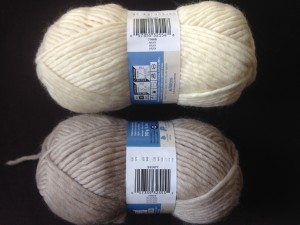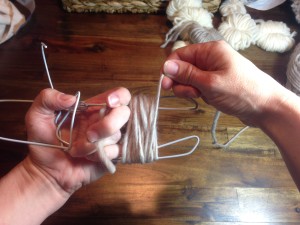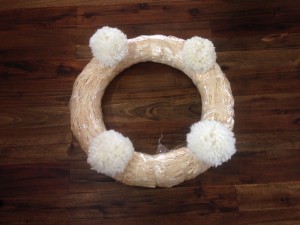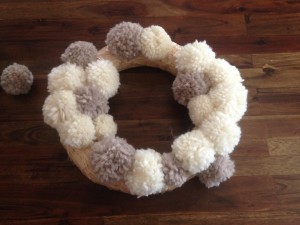 Make your pom poms.  Mine all sort of vary in size but are an average of 4″ in diameter.  I used about 75 for a 14″ wreath.  I used a total of 5 1/2 spools.
Lay your wreath form on the table and glue one pom on each corner.  I just did that to act as a guide.
Continue to glue poms onto the wreath.  I glued them pretty close to each other so there were no gaps in the poms.  You don't want to see any wreath form.  Also, keep your form flat as it will be laying against a door or wall.  You only put poms on one side, not all the way around.
That's it!  Tie a ribbon around it and you're done!  Side Note~The Anthropologie one looks sort of ratty so if you want yours to look like theirs, you can tease the wool a little at the ends.  I haven't decided if I'm going to tease mine yet 🙂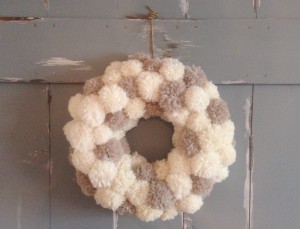 I know your wreath is beautiful!  Hang it on your wall and enjoy.  If this was super fun and easy for you, please share this post with others.  Follow me on Instagram for more DIY inspiration!